Are you bored of sitting in a typical office chair which makes your leg's sore, and looking for a comfortable chair to sit with crossed legs?
If yes, let me tell you that some genius inventors have built something just for you, and this article is all about your comfort.
Sitting in the wrong position can lead to many issues like backache, muscle sprain and sciatic pain. You might not like it, but it can cause you a lifetime of trouble, like difficulty in sitting and walking.
So, it is best to purchase a super comfortable and relaxing office chair to save you from all the back sore problems. However, we have gathered the best office chairs to sit crossed legged.
Plus, you will seek guidance regarding the postures and sitting positions that will keep you away from backache and muscles' sprain as you progress in this article.
Top 5 Best Office Chair To Sit with Cross Legged
1) Pipersong Meditation Chair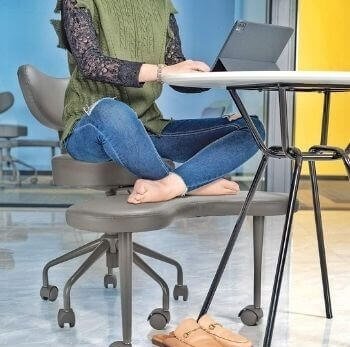 Our Top Pick
Dimension: 2 x 22.8 x 15.8 inches
Item weight:5 pounds
Manufacturer: Pipersong
Maintains body posture
Supports lower back
Good for meditation
Pipersong meditation chair is the best chair for those who do not like to sit in a typical way because some chairs are quite congested to sit comfortably.
Moreover, unlike your ordinary office chair, the Pipersong meditation chair has a padded footstool with the best quality foam. The thickness of foam is 1.5 inch plus the stool is designed to swivel up to 360 degrees.
No matter how long you sit while working on your office desk, the Pipersong meditation chair will never numb your back.
Moreover, the back support is intelligently engineered in a crescent shape to perfectly support your back at an angle of 120 degrees. Nonetheless, the back support of the Pipersong meditation chair keeps you from falling while switching the position from time to time.
The seat's cushion is 4 inches high and made up of high-class foam to keep your hips area relaxed in case of prolonged sitting. Due to its comfortability, it is also ergonomic chair for watching tv and play video games.
Furthermore, the Pipersong meditation chair is made with resilient foam to give your body a luxurious sitting.
Also, you can use it while working or when you want to relax in your home. Lastly, the design is so appealing that it fits best in every corner.
Features
Pipersong meditation chair keeps you comfortable for long sittings.
It maintains your body posture.
Plus, the leather used is high quality that makes you feel special.
Benefits
A comfortable and healthy chair to put near your working desk.
Or you can put it in your home for relaxed sittings.
It allows you to sit in crossed leg position and squat position.
Pros
Impressive design
Keeps you comfortable
Beautifully handcrafted
Wide colors range
Cons
High on budget
Not for tall people
2) Alexia Meditation Soul Seat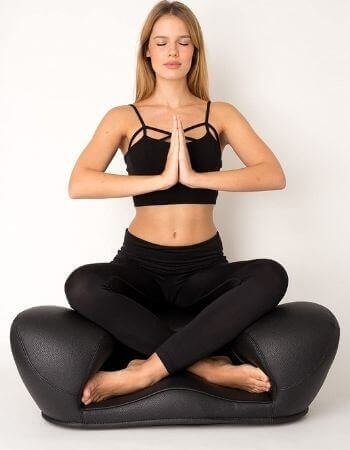 Soul Seat Cross Legged Chair
Dimension: 32 x 27 x 12.5 inches
Item Weight: 15 pounds
Model Number: CU128-7
Minimalistic design
Small bodied chair
Comfortable sitting design
If you are obsessed with yoga and meditation, the Alexia meditation seat is just designed for you. It comes with a postures engraved structure that allows you to sit as long as you want without getting your feet numb.
The ergonomic design provides support to your back, hip bone, shoulders and feet. Alexia meditation seat is highly comfortable for those who like to sit and read.
No matter Alexia meditation seat lacks traditional back support, but it improves the posture of your spine. It takes care of your lower back and relaxes your spine. Plus, it keeps away the body's weight from vertebrae, making it less stressed for a while. It corrects the posture of sitting from lousy to straight.
However, the best thing about this chair is that it's lightweight, and you can keep it in any corner of the house because it is super pretty.
Further, Alexia meditation seat has soft foam that keeps the blood circulation steady during long hours of sitting. It comes in a different material from vegan leather, original leather, canvas fabric to fabric. Plus, you can make it customized as per your demand.
In case you like the specific color you can ask for it. It comes in various colors like black, blue, green, sky blue, teal and what not!
Features
Alexia meditation seat is not like typical office chairs.
It holds the body posture correctly.
It lifts off extra muscles tension from the vertebrae.
Benefits
Alexia meditation seat is best for meditation and yoga.
It prevents your foot and pelvic area from freezing while sitting for long hours.
Pros
Handcrafted design
Carved footrest
Lightweight
Corrects spinal posture
Cons
Not for travelling
Slightly expensive
3) Flash Furniture Hercules Series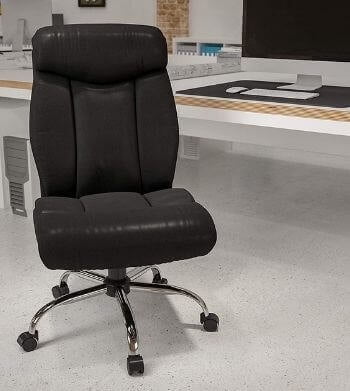 Cross Legged Chair with Back Support
Dimension: 29 x 29 x 45.5 inches
Item Weight: 45 pounds
Model Number: GO-1235-BK-LE A-GG
Broad seat and backrest
Black leather look
Rotate up to 360 degrees
Either you are a workaholic, or you like to sit and enjoy reading the book. In both cases, the flash furniture Hercules series is the best chair for you.
It has a wide seating cushion that allows you to sit for extended hours without feeling distressed. The high-end look is strong enough to hold a bulky weight of 400 pounds. We had tried and tested it; however, the adjustable features make it more appealing.
Flash Furniture Hercules series is the best office chair for tall people and allows them to sit comfortably. The high back design is noticeably higher than regular office chairs to provide extra support to the upper lumbar area.
Plus, the broad and soft high back design holds the lower back in perfect position. You can also look 360 degrees around your working space because flash furniture Hercules chair can swivel up to 360 degrees.
Moreover, the front design of the sitting area is a waterfall design that removes the pressure to build on the upper leg area. Waterfall design helps to keep the blood circulation undisturbed while sitting for long hours. It has an adjusting knob to rock.
You can also tilt the chair and lock this chair to your desired position. Also, you can adjust the height as per your leg length.
Related Article: Best Chair For Therapist
Features
Flash Furniture Hercules is the best chair for people who are tall and heavy in weight.
It provides excellent leg support and lumbar column support.
However, it is rich in weight, but that makes it challenging and robust.
Benefits
Flash Furniture Hercules is a super comfortable chair.
It comes in a black leathered look that makes it quite an outstanding piece of furniture.
It is quite supportive for those who have back pain issues.
Pros
Good quality leather
Good for bulky people
Tilt lock mechanism
High-end comfort
Cons
No armrests
Inadequate back support
4) Cross-Legged Kneeling Chair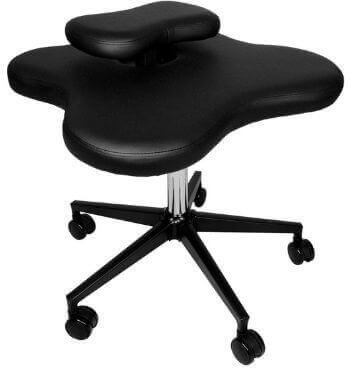 Gaming Chair for Sitting Cross Legged
Dimension: 75 x 24.75 x 10.5 inches
Item Weight: 5 pounds
Manufacturer: Elevs
Enough room to sit cross-legged
Comfortable lower platform
Adjustable seat height
The cross-legged kneeling chair is a brand new invention and is one of the best office chairs to sit cross-legged. It comes with two platforms. Firstly on one seat, your butt lands, and on the lower one lies your feet.
Further, you can sit as you like with a Cross-legged kneeling chair because its shape is so classic. It gives you ease to sit in various positions like one foot down and one foot up. Or you can sit with knees in the air and cross-legged.
The cross-legged kneeling chair is unlike typical office chairs on which it was impossible to switch positions due to lack of room. Because the cross-legged kneeling chair has no armrest and backrest, thus giving you enough space to change as many positions as you want.
Plus, it allows you to sit straight with legs crossed which enhance the butt and pelvic function.
Moreover, the seat and leg seat comes with an adjustable height knob to fit your height and size. The lower seat can be adjusted to the height from 15-20 inches. At the same time, the upper seat can be adjusted up to 8 inches higher than a lower-level platform.
However, a cross-legged kneeling chair is also a suitable option for those who love to do yoga and meditation. The variety of colors and wheels attached below the chair allows easy movement of the chair from one place to another.
Features
The cross-legged kneeling chair is not only perfect for computer work like typing and gaming.
But it is the best chair for stitching, yoga and meditation.
Benefits
The cross-legged kneeling chair comes with 2.5inches thick padded seat that relaxes your pelvic muscles.
No backrest allows you to sit with your back straight.
It treats you best during consecutive long hour sittings.
Pros
Breathable leather
Solid steel frame
Ergonomic design
Comfortable seating
Cons
Slightly uncomfortable
Not enough soft
5) Defy Desk Crossed Legged Chair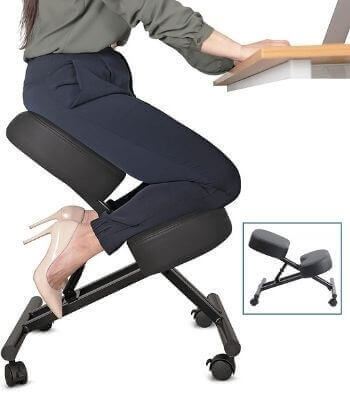 Kneeling chair for Cross Leg Sitting
Dimension: 85 x 18.74 x 8.19 inches
Item Weight:86 pounds
Manufacturer: Defy Desk
Ease the back pain
Eye-catching design
Fully adjustable
Defy kneeling desk chair is the best office chair if you are looking for something more relaxing than a regular office chair. It relieves your back pain by balancing the weight of the body.
Furthermore, an ergonomic kneeling chair improves your posture. It lacks back support, so it does not allow you to sit in a lousy position.
It straightens up the spine and triggers your core muscles to build up strength. When you sit on a kneeling chair, it divides your body weight within legs, knees and thighs.
Plus, it engages your back muscles to work throughout the office hour to build muscle tone. Nonetheless, it increases your concentration by keeping you less tired.
Moreover, it aligns your eye level and spine with the working station. Also, the seat cushion thickness is 3 inches, and the metal body is sturdy enough to support 250 pounds.
Furthermore, defy kneeling desk chair comes with four base wheels with brakes that allow smooth movement while sitting at the chair. Not only this, the height of the two seats is entirely adjustable.
Features
Defy desk kneeling chair is the best office chair because it improves your concentration at work.
Also, the metal design is robust and allows you to adjust the height as per your desire.
Benefits
Defy kneeling desk chair can be used by children, teens, adults and oversized people.
The adjustment ranges from 21 to 28 inches.
Pros
Efficient seat design
Good for all ages
Heavyweight tolerance
Corrects spinal posture
Cons
Slightly uncomfortable
Hight adjustment issues
FAQs about Cross Legged Sitting Ergonomics
Is Sitting Cross Legged On A Chair Good For You?
Yes, sitting cross-legged on a comfortable chair is good for you. Because it opens up your pelvic muscles and provides flexibility to the hips, it stretches your knees and legs and keeps your spine straight. It decreases menstrual pain and sciatica pain.
By sitting cross-legged, you can improve your body's posture, and it also comforts your abdomen, thighs and spine.
Related Article: Chairs For Anterior Pelvic Tilt Correction
Is Sitting Cross Legged Good For Hips?
Yes, sitting cross-legged is good for hips. As stated earlier, it opens up the hips. It allows you to distribute the body weight throughout the legs and spine.
Prominent positions of yoga and meditation based on cross-legged sittings because it improves the concentration of the mind. Further provides flexibility to your legs and pelvic area.
Is Kneeling At Your Desk Is Better Than Sitting?
Kneeling at your desk increases your alertness and focus at work. However, kneeling for prolong period can be damaging to your eyes.
Plus, it interrupts the blood circulation around the knee area and causes light-headedness and fatigue. The more you sit in a relaxed position more productive you can be.
Closing Thoughts
Before purchasing any office chair, we would like you to look at your overall medical state. If you already have existing arthritis, joint pain, or chronic backache, you should avoid purchasing defy kneeling desk chair. However, we recommend you go towards the Flash furniture Hercules series because they are best with seats and back support.
If you want to stay focused and practice yoga, we recommend the Pipersong Mediation Chair and Alexia meditation seat because they are highly comfortable and stylish in design.