Herman Miller always strives to innovate useful products with inspired designs. It provides Best Herman Miller Office Chairs for all sizes of businesses to promote sitting comfort and stability.
In the market of Chairs, Cosm chair design by Herman Miller received the Best Product Design Award in 2019. As well as, the Remastered Aeron chair wins the "Good Design Award" in the furniture and lighting category.
Now a day, Herman Miller becomes a world top brand in office furniture. It sells products on three continents of the world and over one hundred countries.
---
Top 3 Best Herman Miller Office Chairs to Buy in 2023
The main focus of Herman Miller Brand to make an office chair that has everything that user demands. Like Chairs should have ergonomics, superior engineering, elegant design and ecological responsibilities that make the user experience better.
1) Herman Miller Embody Chair Review
In the Herman Miller class, the Embody Chair is top of the table with its dynamic designs and responsive features.
According to the Embody Chair Review, it is the first health-friendly chair that provides full relaxation to the backbone and shaped well your sitting posture.
Designed by Jeff Weber and Bill Stumpf, this chair gets an award of Best Herman Miller Ergonomic Chair.
After an in-depth analysis of buyer reviews about this Chair, I prepared this ultimate guide that will help you to order this chair.
Why You Choose Embody as Your Office Chair?
The first considerable thing in this chair is its design and look. Not just a good design, except a great style. Its curved back, floating Armrest with full adjustability make it responsive and attractive.
Each part designed individually with a long-lasting spirit that way it is called performing Chair.
If you are suffering in the lower back pain problem than you must buy it to recover your body soon. It aids to strengthen the lower back and give decent comfort to each part of the body.

Doctor Advice:
A team of doctors that participate while designing of Embody Chair, recommend this chair for those people who sit more than four hours in a single day.
And its Ergonomic design arts help in your back free from pain. It's not just a chair, as well as it gives relief from those problems that born due to long-time sitting like backbone difficulty, neck pain and body stress etc.
While the selection of a chair must ensure that it fits your body or not. If a chair is excellent, but never fit to your body then never acquire it.
Adjustments:
Herman Miller Embody chair provides a variety of adjustments like height and inclined to its back that helps you to set it according to body posture.
With a combination of others, it also supports armrest adjustment with excellent lumbar support.
Its adjustment applies to large scale values like it provides height/sitting adjustment between the range of 30 inches to 42 Inches. And its weight is 52 pounds, but its smooth-rolling casters help to move easily and provide 360-degree swivel.
It supports 16 various color variations that encourage buyers to select their favorite color. But I love to choose peacock shade.
Polyester fabric Caution with cool colors enhances its traditional look and collaborative style. So duo to these all features gives 1st position to this chair in Herman Miller office chair review guide in 2023.
Now, I will explain some pros and cons that help the potential buyers to purchase.
Pros
Ergonomic Design
Available in 16 Colors
Totally adjustable
Lumbar support Back
Flexible Armrest
Cons
Heavy Weight Chair
Little bit expensive
2) Herman Miller Sayl Chair Review | Stylish Office Chair
Sayl Chair invented by Herman Miller is a charming chair due to his good design, healthy comfort and outstanding price.
Its 3D Intelligent back and  Y-Tower support make it an extra stylish office chair rather than other ergonomic chairs. Signature back makes it a fully breathable chair that keeps your body dry and provides cool sitting in hot weather.
Sayl Chair has 3D Intelligent back helps to improve posture and allow the spine to balance in its physical S shape. It's also available in different varieties of colors that fulfilled user demands.
Seat Height Adjustment:
It affords seat height adjustment between 15.5 inches to 20 inches. That helps you to adjust the seat, according to your size and table height. It also helps you when your chair is adjusted according to your computer screen.
If your weight is up to 350 then it is the best-fitted computer chair for you. It is an Eco-Dematerialized chair with designers Inspiration and concert about designing a healthy chair.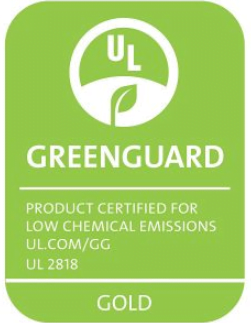 Herman Miller uses near about 100% recyclable materials while construction of this chair and zero percent PVC used in this product. So it's a completely Eco-Friendly chair.
The ArcSpan Arm Structure:
It is a lightweight chair just only 37 pounds. Because its ArcSpan arm structure and tilt mechanism help to reduce chair weight. Due to rare design and armrest structure, it supports to knees and arms while working in the office.
Fit for all Body Types:
This chair is quickly adjusted for all persons that have different body styles. Because its suspension back is highly flexible that adjusts to each body shape and helps to sit with spine care plus back comfort.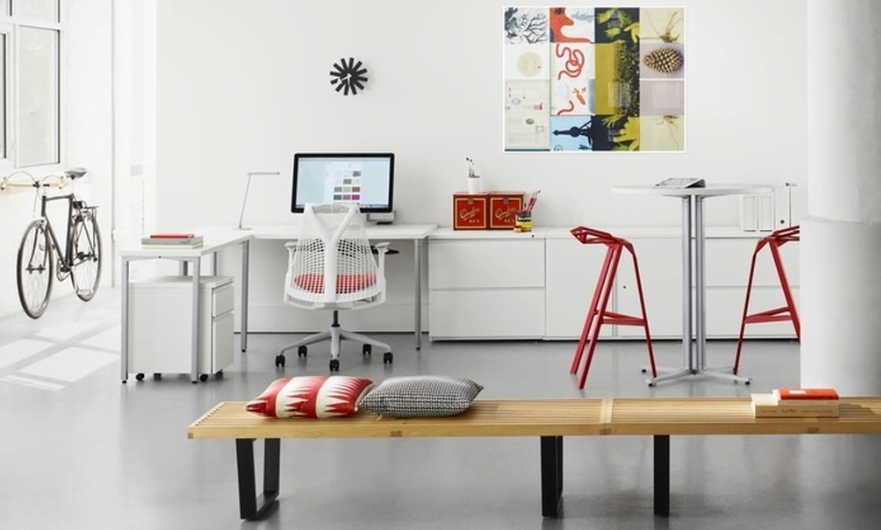 Due to classic shape, it grasps the attention of everyone and gives a great appearance to your office or home. So it's good for both Office or Home use.
It is the best design at cheap rates and gives long sitting comfort.
Herman Miller designs this chair model, especially for medium height to small people, not for tall users. But some other chairs specially designed for tall persons. If you have back pain problems then also choose the best office chair for back pain after reading the ultimate review guide.
Easily Assemble:
Herman Miller Sayl chair did not require any assembly requirements. Its assembled already. You only need to adjust some features according to your body shape and sitting posture.
It provides all types of adjustments (height, forward and backward tension, arm height, and angle) that help the user to adjust it according to the height and other requirements.
It provides a tilt lock to fixed its position according to user desire. So these all highlights with wonderful design make it a fantastic chair suited for every person.
A lot of office communities like Herman Miller Sayl Chair due to Gorgeous design, comfortability and highly adjustability. As Herman Miller is a well-reputed brand, so it facilitates with 12-Year warranty to sell it confidently.
Pros
Elegant Design
3D Intelligent Back
Posture fit support
Eco-Friendly Chair
Full Adjustments supported
Cons
Not for Tall
Without Neck Support
Cost-Effective
3) Herman Miller Setu Chair Review
Setu Chair by Herman Miller is an ergonomic office chair by Herman Miller in reasonable price. It's designed according to exact sitting position and prove helpful to body movement.
Setu Chair has 5 Star base with standard hard floor casters that help to move easily and smoothly when the user moves. It moves automatically with the user move. That's why this chair is also called Multi-Tasker.
Herman Miller Setu Chair provides high strength and flexibility to the body to take high comfort in every sitting posture. Kinematic spin that uses in this chair, control resistance and it supports body weight whenever you recline. Due to which it responds in every way as your body moves.
The seat and back of this classic chair made by the Lyris Fabric and the structure of it make by Graphite.
According to Setu Chair Reviews, this chair provides healthy back with no lumbar support or any headrest support. While construction of this chair 93% recyclable material uses to make it Eco-friendly.
No Assembly required for this chair because it assembled already. As like, it is a very lightweight chair and has a capacity of up to 300 pounds weight.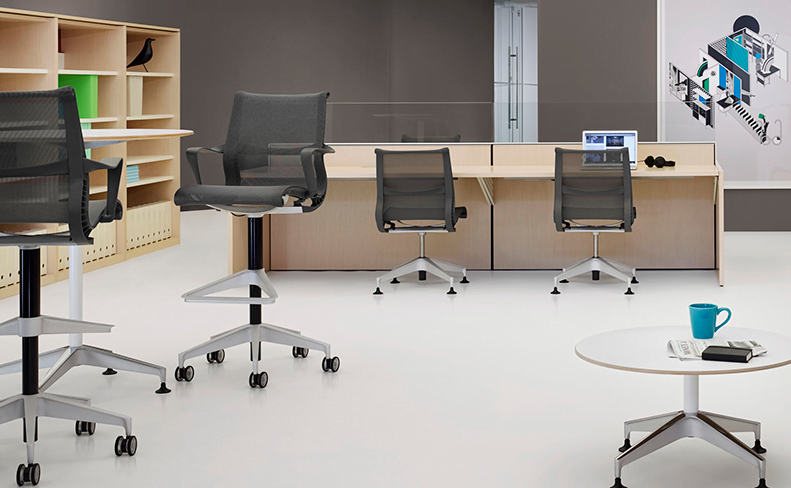 These kinds of Herman Miller Office Chairs are best for office and workplaces. And sometimes used in conference rooms.
According to customers reviews, this chair gets more sells and become focused point of buyers in the whole year. It has a lot of buyers positive feedback and 4.3 star average rating.
Pros
Mesh Breathable back
Cheap and Long lasting chair
Eco-Friendly Chair
Cons
Fixed Armrest
Not Adjustable
---
About Herman Miller Company
Herman Miller is an American furniture company based in Zealand, Michigan. It was founded as Star Furniture Co. in 1905. And later on, it changes into Herman Miller in 1960.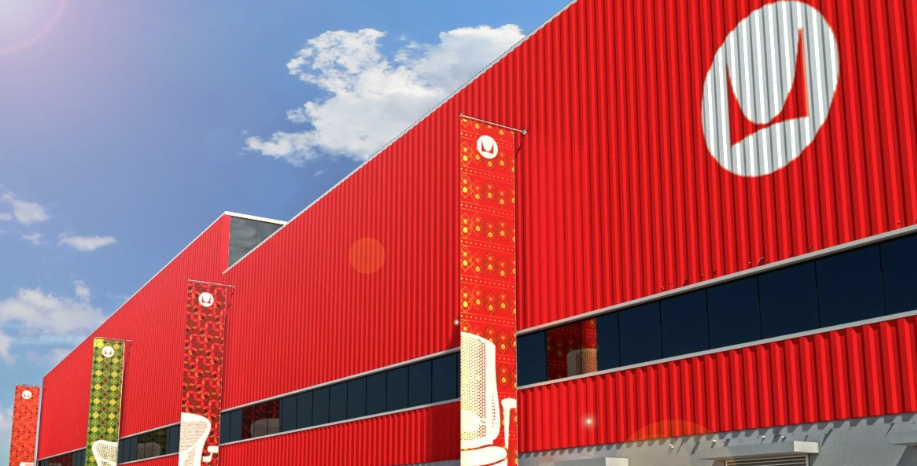 Herman Miller was ranked as a second admired company in office equipment and home furniture. It stays in the highest position due to innovation, social responsibility and quality of service & products. So that's Why I write a review guide on all Best office chairs by Herman Miller brand.
Herman Miller takes many initiates to promote sustainability and cost-saving implications for the company. This Company track every chemical in a database that is used in its production and eliminates harmful chemicals in their products.
The main concern of this company is to reduce global warming and promote reusability.
All Herman Miller office chairs are designed economically well and achieving sustainability goals, including saving material, energy-efficient manufacturing and recycle content. Click for more about Herman Miller.
Conclusion:
All Herman Miller office chairs have their own uniqueness and unbeatable features. So, I recommended that you choose that chair that exactly fit your body and fulfills your needs. The embody chair, Sayl Chair, and Setu Chair are mostly selling chairs of Herman Miller Company.