Are you struggling to perform the daily tasks of the day after hip replacement surgery and want to choose a hip chair that will help reduce your pain after hip replacement? If yes, then we have got your back. We will tell you about some best chairs that will allow you to sit without bending at the hip area.
After the surgery, it's distressing to have problems like limited movement or feeling strain while getting up or sitting down. You might feel frustrated as you need someone's assistance to resume your daily work life.
Don't worry! We won't let you feel burdened. Our one of the top picks Comhama leather chair will make your life easier and eliminate the risk of sudden falling until you recover completely.
Or, if you're in a hurry and can't read the entire article so, you can go for Drive medical deluxe with your eyes closed. Now, let's dive in deeper to know the various options of worthy chairs you can use after hip replacement!
Top 10 Best Chairs after Hip Replacement Surgery in 2022
1) Drive Medical Deluxe High Hip Chair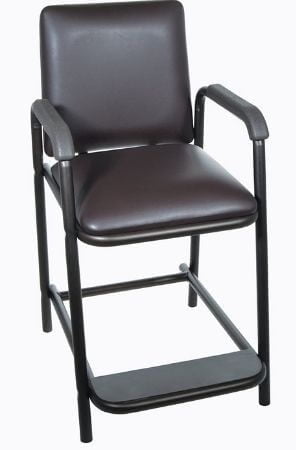 Our Top Pick
Material: Steel.
Weight capacity: 300lbs.
Designed For: post-hip surgery people.
Seat to floor height: 26".
Maximum Weight: 7.03 pounds.
Width between arms: 17.5".
The drive medical deluxe chair gives an accurate angle for sitting. Seniors can take the support from sturdy armrests that help them to sit safely. Afterward, the padding on the seat provides firm comfort to the hip joints.
The chair is designed in a supportive manner and doesn't wobble when someone takes a seat on it. We can say that the filling is not too soft, but still, it makes you feel comfortable.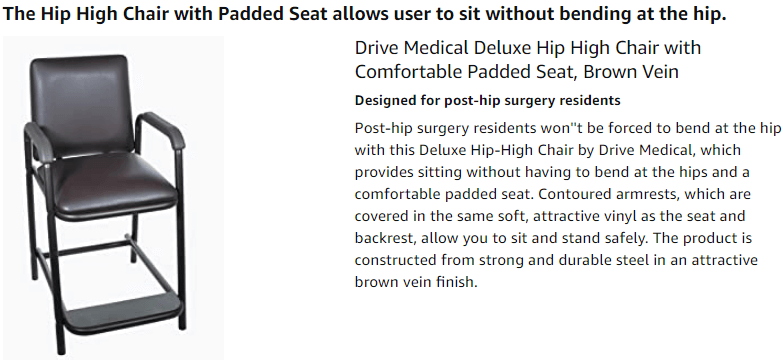 If we talk about its assembling, it's pretty simple to set up all the parts quickly. It has the perfect height and durability you need after a hip surgery. Even when you slide in suddenly, this chair will not move from its place. Additionally, you can shift this chair in multiple rooms due to its lightweight material.
The vinyl covering on the chair is stain-free, and you can use the wet towel to clean it if it gets dirty. However, we won't suggest using this chair in the shower as its design might get affected. Other than that, it has a footrest that can accommodate hip replacement residents.
You must know that this deluxe chair is made from a sturdy steel frame and will last for a long time. Due to its durable material, many people enjoy using it even after recovering from the hip joint's pain.
Highlighted Features
It has a stable footrest.
Seat height allows sitting without bending.
The contoured armrest looks less industrial.
The vinyl seat and backrest are water-resistant.
Relievable brown-vein finishing.
Arm and backrest help to stand safely.
Pros
Attractive
Lightweight
Adjustable
Sturdy and stable
Washable vinyl seat
High back & padded seat
Natural look
2) Lumex Everyday Hip Chair with Adjustable Footrest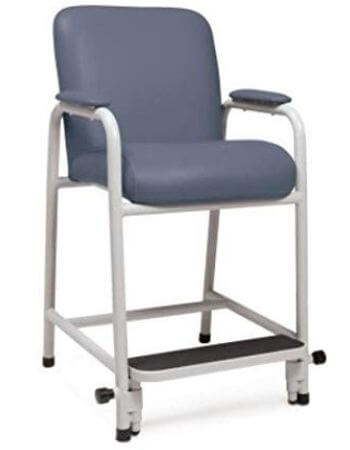 Most Comfortable after Hip Surgery
Footrest: Adjustable
Fabric Type: Thick foam
Material: Metal
Seat to floor height: 27"
Weight Capacity: 350 lbs
Ideal for: arthritis patients
Lumex chair is considered the best chair after hip surgery because it has a padded full-length armrest. This hip chair is perfect for daily use as its armrest provides durable hold.
Once you sit on the cushion of this chair, you will forget about all the aches and pain of joints. The soft cushions not only ease the pain but they release pressure from the joints.
Its perfect height matches a standard desk that makes it feasible for you to do day-to-day tasks. It will distract you from the pain and maintain your posture without compressing the hip joint.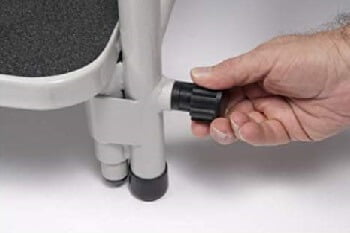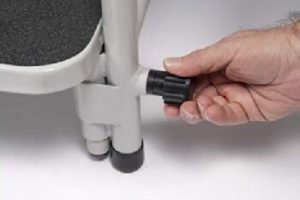 Besides, the footrest also keeps your knees in place so that the hip angle won't be disturbed. An anti-slip strip is also connected with the footrest for additional security.
Highlighted Features
Feasible height reduces joint fatigue.
A padded armrest makes standing and sitting easier.
Foamy seat & backrest allow sitting for a long time.
An anti-slip strip on the footrest provides extra safety.
Well-built design with a multi-functional mechanism.
Metal frame & seat are easy to maintain.
Pros
Adjustable footrest.
Stay fixed in one place.
Convenient assembling.
Washable material.
Maximum weight capacity.
High-quality padding.
Cons
Challenging to move around.
3) Extra-Thick Foam Chair Cushion-Best after Hip Surgery


Essential after Hip Replacement
Cushion Height: 5-inch.
Cover: Removable
Weight: 15.2 ounces.
Sides & Bottoms: Cotton knit.
Seat: Poly-shearling
Shape: Square.
This portable chair pad is best for people who have gone through hip or knee surgery recently. If your chair is causing some discomfort, you can put this cushion on the seat to prevent fatigue.
Due to its 5-inch added height, it won't collapse like other low-quality cushions. Not even if you use this cushion for many years.
Its soft foam provides support to the hip joint, and you can adjust in tight places like wheelchairs, cars, movie theatres, and stadium seats. Most of all, this comfortable pad allows you to stand easily without taking any help from others. Also, its soft-to-touch fabric is removable, and you can wash its cover if it gets dirty.
Highlighted Features
Provide 5 inches of extra height.
Extra-firm foam won't allow it to flatten.
It has a size that fits in different places.
This cushion helps to improve mobility.
Great relief for pain pressure joints.
It comes with an ergonomic design.
Pros
Full-padded arms.
Its cover is washable.
Extra thick foam.
It can't be compressed.
4) Duramont Ergonomic Adjustable Office Chair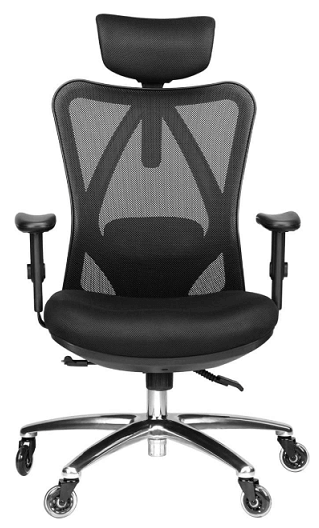 Most Comfortable Chair
Material: Mesh.
Weight: 44.6 pounds.
Refund policy: Yes
Weight capacity: 330 lbs.
Warranty: 5 years.
Seat cushion: Thick & Soft.
Duramont chair is best after hip replacement surgery due to its quality, comfort, and adjustability. This is the only chair that has more flexible options than any other chair available in the market. That's you can be assured that it's the most ergonomic chair for hip replacement patient.
Its tall backrest and thick cushioning provide incredible head and neck support. You can adjust the headrest's angle and height according to your preference. The best factor about this office chair is its simplicity.
The breathable mesh allows the air to pass through it and keeps your back sweat-free all day long. If you remain calm and fresh, then you can comfortably spend your day on this chair.
Furthermore, this unique office chair has adjustable lumbar support that enables you to tilt the back in any direction. All in all, it has both ergonomic quality and affordability. Click for listen Audio Review.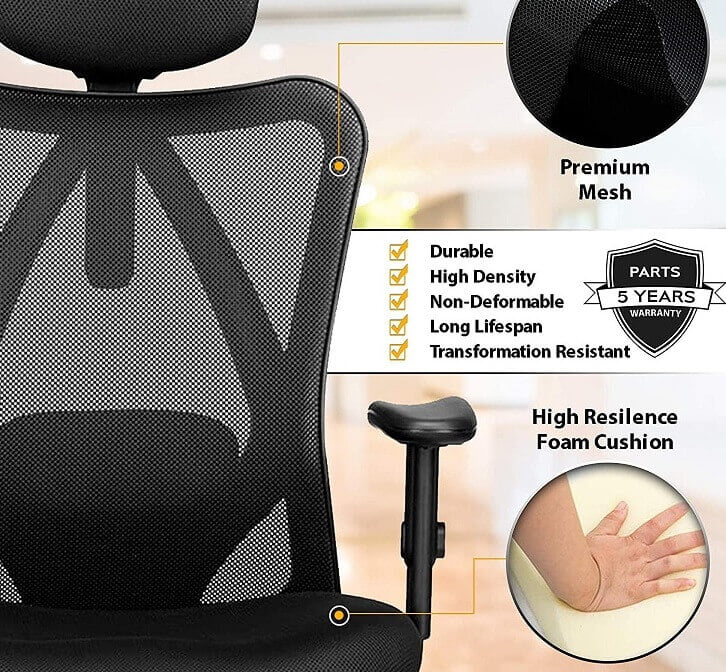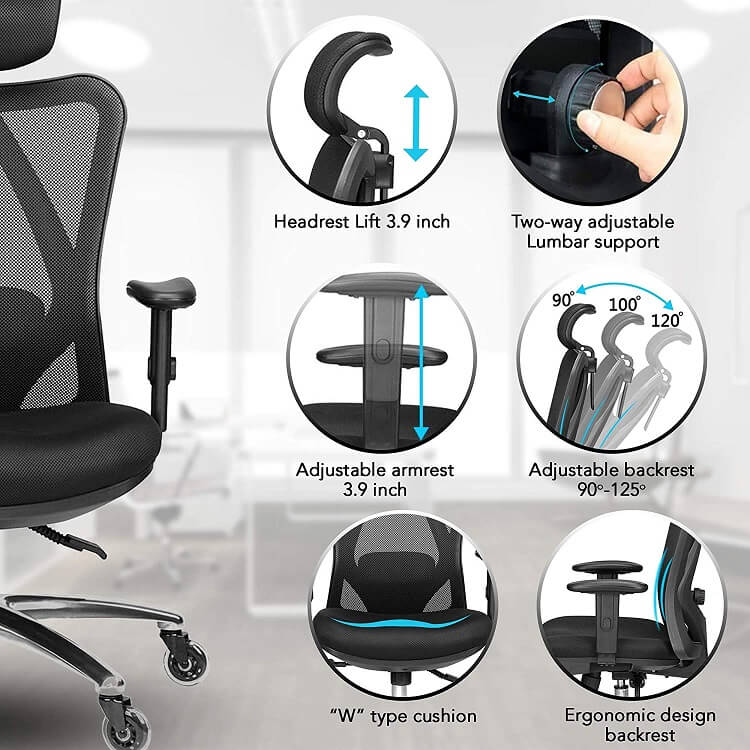 Highlighted Features
Knob-based lumbar support system.
Firm seat& tall backrest
Breathable sitting material
Excellent rubber wheels roll smoothly
Tilt adjustment has three stop points
Recline on the duramont is excellent
Pros
Tall mesh back panel.
Comfortable and stylish.
Improve mobility.
Versatile adjustability options.
Quick assembling.
Smooth-rolling casters.
Dual direction armrest.
Cons
It has no seat-depth controller.
5) Homall High Back Office Chair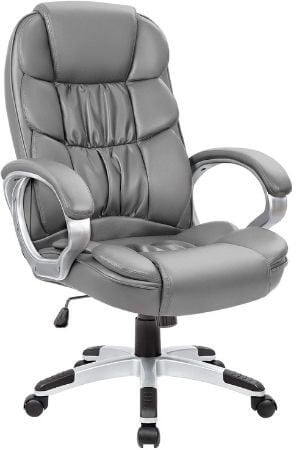 Best Budget Overall
Material: Faux leather.
Height: 13.7" to 17. 4".
Weight Capacity: 300lbs.
Seat Width: 21"X19.2".
High back length: 21"X 27.6".
Padded armrest Length:18.6".
Homall chair is an excellent fit for various places like offices, gaming room study, or bedrooms. You even don't have to ask a professional to assemble this chair because it can be put together quickly. Its super-long padded armrests give ultimate comfort to the shoulders and forearms.
The sunken surrounded wide seat doesn't fail to give you the best soft sitting experience of your life. Besides, the layering style is best for the spine to give people a natural and comfortable sitting position and provides ample support to hip joints.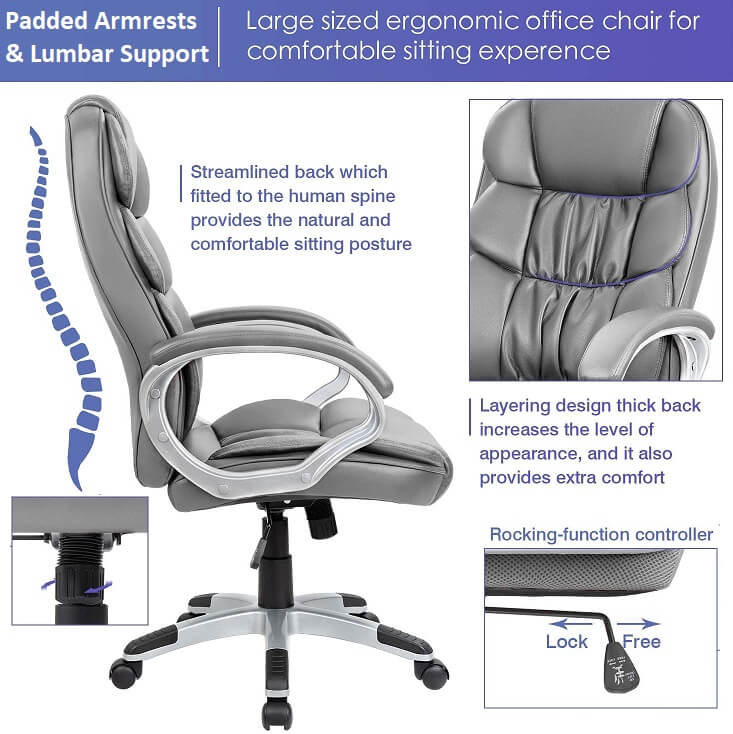 Highlighted Features
A wide seat feels comfortable on hip joints.
The chair's armrest is greater than arm's length.
Ergonomic layering back for correct posture.
This office chair has a higher level in appearance.
Sunken seat design to provide utmost comfort.
You can rotate the chair to 360 degrees.
Pros
Lightweight
Breathable mesh seat.
Padded lumbar support.
Comfortable & durable.
No discoloration after use.
High-quality PU leather.
Reasonable price.
6) Hip Chair Apex Premium & Padded
For Comfortable Showering
Weight: 12 pounds.
Seat Height: 23 to 27.5".
Ideal for: post-hip surgery patients.
Reversible: Yes
Seat surface Adjustment: 0 to 13 degrees.
Material: Aluminum.
It's a fantastic chair that works great in any kind of situation. The seat's height keeps the knees lower than the hips, which helps to improve the healing process. It provides the proper condition for recovery because of the medical-grade, water-shedding foam.
This foam helps to keep you warm as compared to the standard plastic. Moreover, the versatile adjustment options make it an excellent choice. You can move it in any kind of room and even use it as a shower chair.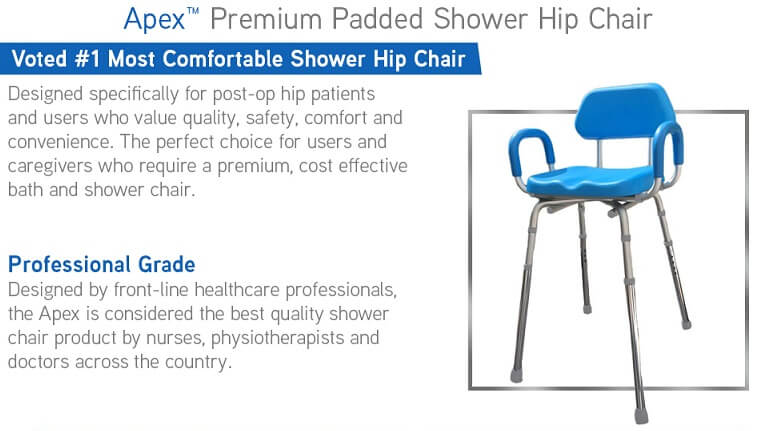 Highlighted Features
Adjustable height helps to sit comfortably.
Customizable fitting of the seat width.
Padded back provides comfort to the spine.
Quality aluminum chassis is solid.
The armrest can be removed if required.
Commercial grade polyurethane is used.
Pros
Padded armrest.
Multi-purpose use in rooms.
Quick assembling.
2 in 1 chair for seniors.
Upgraded wide seat.
7) Drive Medical

Bench with Adjustable Backrest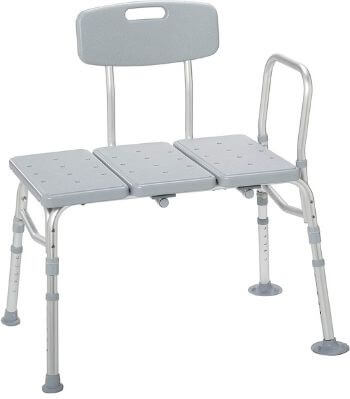 Best Chair afte Hip Replacement
Weight: 12.6 pounds.
Assembling: Tool-free.
Seat Height: 0.5" increments.
Overall Height: 19.75 inches.
Outside leg width: 32 inches.
Seat depth: 18.5 inches.
This one is ideal for those who need support for getting in and out of the bathtub. It is designed in a way to accommodates any type of bathroom. So, you can convert the chair to fit in a tub as its back and legs are highly adjustable.
You don't even need any tool to assemble this tub bench's arm, back, and legs. A pinch-free lever is also available to get the installation done in a short time. Not only that, but there are also holes to make the bench more secure and less slippery for exiting and entering the tub.

Highlighted Features
A-frame design gives maximum support.
Extra-large non-slip suction cups for a bench.
A pinch-free lever allows secure adjustments.
Ideal for transferring people to the bath.
Drainage holes prevent the water from pooling.
Designed to be used in any type of bathroom.
Pros
Lightweight
Portable.
It will never rust.
Safe and secure.
Sturdy non-slip caps.
Versatile.
Improve mobility.
Cons
Irreplaceable Suction cups.
8) Signature Designed Power Lift Recliner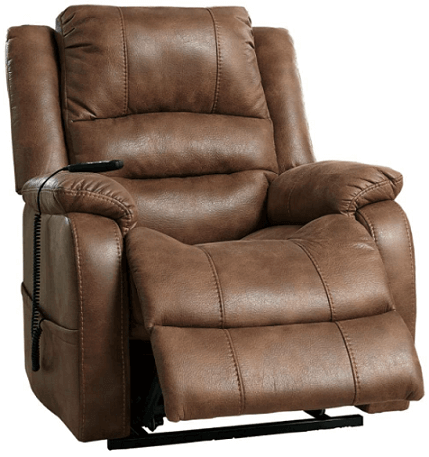 Recliner after Hip Replacement
Material: Leather.
Weight: 121 pounds.
Ideal Style: Seniors and disabled people.
Total length: 69."
Power Lift: Yes
Seat height: 20".
Ashley's power lift recliner is one of the best recliner for hip pain. It gives you a variety of options to customize everything by pushing a single button. The power chair gives you firm support due to its high back and thick density cushions.
Besides, it has a smooth brown upholstery that feels smooth to the touch. The controls are smooth to operate, and the estimated time of the entire power movement takes only 1 minute. It slowly started to move from reclined to an upright position. That makes it ideal for seniors who have arthritis or have undergone hip surgery.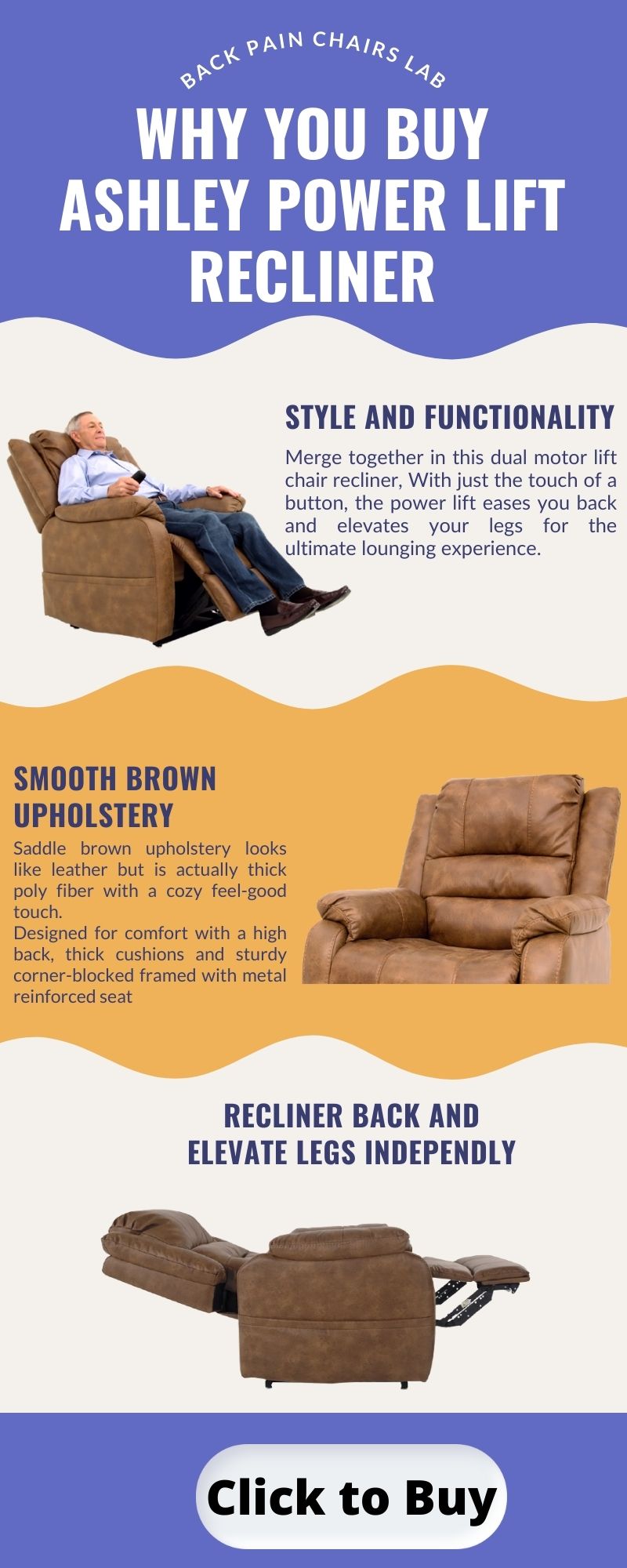 Highlighted Features
Quiet controls for adjusting sitting position.
It comes with emergency battery backups.
Full reclined in a horizontal position.
Dual motors for head and leg controls.
A high back, wide and deep seat gives relief.
Slow power lift of approx. 110V for 1 minute.
Pros
Long-lasting.
Quick assembling.
Attractive and stylish.
It has a soft cover material.
Dual motors for positioning.
It operates without any noise.
The saddle colour seems like leather.
Cons
It doesn't have cup holders.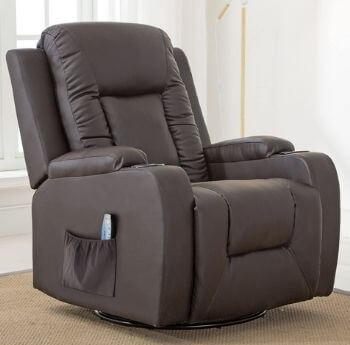 Ergonomic Product Overall
Weight: 117 pounds.
Frame Material: Iron.
Total Length: 40.94 inches.
Ergonomic Swivel: 360 degrees swivel.
Recliner Swivel: 150 degrees.
Recline function: pull out the D ring handle.
You can relax on this beautiful chair that has 5 massage modes and zero gravity regulation. This recliner offers soft padding and full chaise seating. You just have to place your hands on the armrests, and the high-quality recliner system will start immediately.
This rocking recliner allows you to swivel it to 360 degrees, and it has 150 degrees recline features. The stunning armchair is developed with the finest material that provides durability, strength, and utmost comfort. Due to all these aspects, many people consider it as one of the best recliners for hip replacement surgery.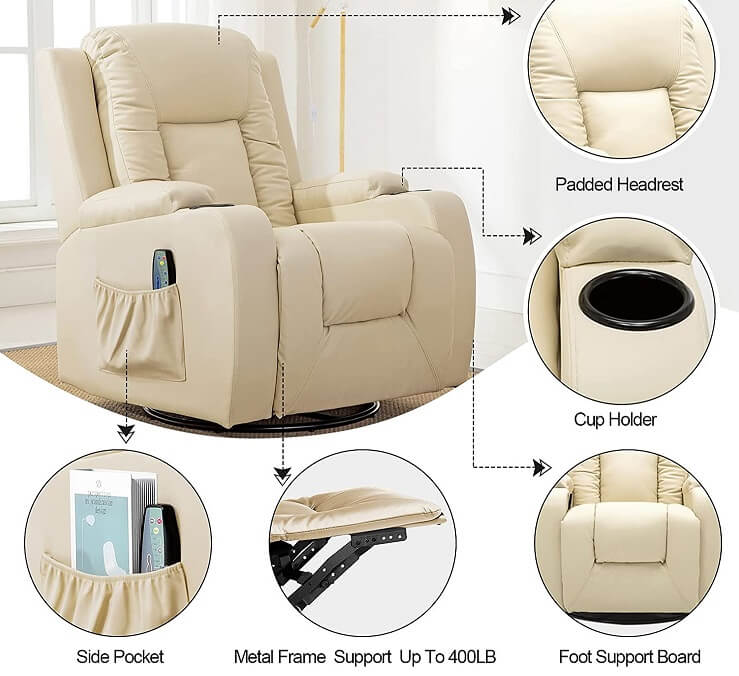 Highlighted Features
Upgrade your massage with the speaker.
4 vibration modes for relaxation.
It's a modern rocker with heat massage.
Premium quality of push-back mechanism.
Padded chair to provide supreme comfort.
It has a heat function for lumber support.
Pros
High build quality.
Convenient to use.
Value for money.
It has drink holders.
Well-padded &supportive.
It has a large side pocket.
10) Everlasting Comfort Seat Cushion & Back Pillow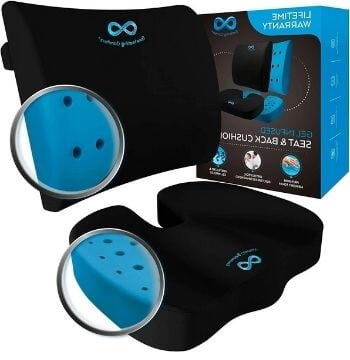 Specifications
Cushion material: Memory foam.
Weight: 3.15 pounds.
Return policy: Yes
Style: Ergonomic
Shape: U-shaped
Additives: No
The everlasting cushion is the best seat cushion after hip replacement. It is designed to relieve pain in the lower back, hips, and legs. Strategically, many holes are placed inside the foam to enhance the cooling effect of this cushion.
The interesting fact is that this cushion uses your body heat to mould according to your curves. In addition, the everlasting cushion is soft yet firm to provide outstanding support and proper posture. Lastly, it is ideal for elderly men and women who have to sit for an extended period after surgery.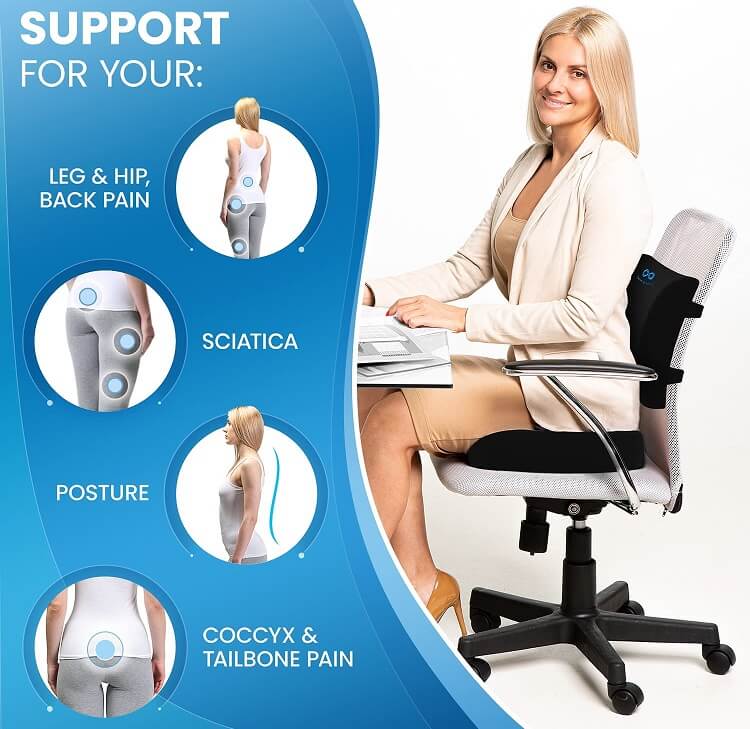 Highlighted Features
Gel-infused foam.
Universal contoured structure.
It can be used as an office chair.
Designed to support hips and legs.
It has heat-responsive technology.
Customizable cushion size.
How Everlasting Seat Cushion Helps to Recover Fast After Hip Surgery?
Pros
Ventilated & Multi-purpose.
Lifetime warranty.
Non-slip material.
Machine washable.
Relieve tailbone pain.
Promote good posture.
Cons
Get damaged in the dryer.
FAQs – Ergonomic Chairs after Hip Replacement
Can I Sit In A Recliner After Hip Replacement?
No, try to avoid sitting on recliners for the first 6 weeks of the surgery because your back needs to remain straight during that period. After few weeks, you can sit on a recliner but make sure to not sleep on it as your hips will get stiff in a bent position.
What Kind Of Chair Should You Sit In After Hip Replacement?
You should sit on a chair that is higher than your knee height after hip replacement. That way, you don't have to bend at your hips while sitting down on the chair. Also, make sure it has a firm and straight high backrest with a comfortable armrest.
How Do You Sit After Hip Replacement?
At the first step, you should put your arms on the right side of the armrest to ease yourself and then slowly sit on the chair. However, your sitting position should not get past 90 degrees within three to six weeks of the surgery. Patient need to follow proper treatment plan to recover soon,
Conclusion
Mostly, people suffer a lot of pain in hip joints after undergoing hip surgery. That's why hip chairs are designed to provide you with adjustable seat angles. Moreover, these chairs are durable, safe, and robust in all aspects.
For a more comfortable posture, you can also buy soft cushions that will mould according to the shape of your bottom and legs. In our opinion, the everlasting back cushion is the best seat cushion after hip replacement. So, what are you waiting for? Get the chair you desire and make your life easy!
If you are finding best chair for hip pain then this guide give you better suggestion!