Are you looking for ergonomic chairs designed to minimize anterior pelvic tilt and also help you to improve your sitting posture?
Then you are on the right page because, in this article, we are going to review the 5 best chairs for anterior pelvic tilt correction. Anterior Pelvic tilt is often caused by sitting for a long time without stretching or not doing enough exercise.
Moreover, anterior pelvic tilt can further lead to a serious health condition. It can even alter the shape of your spine and lead to postural dysfunction. As it can lead to excessive pressure on the lower back, it can cause many other issues like muscle fatigue.
For these reasons, it is crucial to get an ergonomic chair that can help you decrease pressure on your lower back.
If you face these problems, you don't have to worry anymore because we have got the perfect solution for you. All you need is the right chair. After reading this article, you will indeed find the right match for yourself. So, keep scrolling!
What is Anterior Pelvic Tilt?
The anterior pelvic tilt is the condition in which there is a change in posture. It occurs when the front of the pelvis is rotated forward. As a result, the back of the pelvis rises.
Research suggests that about 85% of men and 75% of women do not show any symptoms but have anterior pelvic tilt.
This condition is often caused by a lack of physical activity and excessive sitting. It commonly affects the shape of the spine and may lead to other symptoms if left untreated. Ensuring proper posture when sitting can help correct the posture.
Importance of Correct Sitting Position For Anterior Pelvic Tilt
Having an optimal sitting position by keeping the spine in a neutral position can be very helpful for anterior pelvic tilt. It decreases the pressure on the thigh muscle and reduces the chances of muscle pain and fatigue: Audio Podcast
Having the right chair that supports your back can be beneficial in the following ways:
● Decreased Chances Of Muscle Aches
It considerably decreases the chances of stress on the muscles, especially the thigh muscles. It also lowers the pressure on the disc of your spine and reduces spinal compressions. As a result, you don't have to face muscle aches anymore.
● Posture Improvement
An ergonomic chair is designed in such a way that it maintains the natural "s" shape of your spine. As a result, it helps you improve your posture and decreases the chances of spine-related disorders, and contributes to a healthy spine.
● Easy Blood Circulation
When your spine is aligned in an optimal position, blood flow is very easy in such a condition. Improved circulation of blood is essential for healthy muscles. It also increases the chance of muscle healing and prevents muscle tension.
5 Most Ergonomic Chairs for Anterior Pelvic Tilt Correction
1) NOUHAUS Ergo3D Ergonomic Office Chair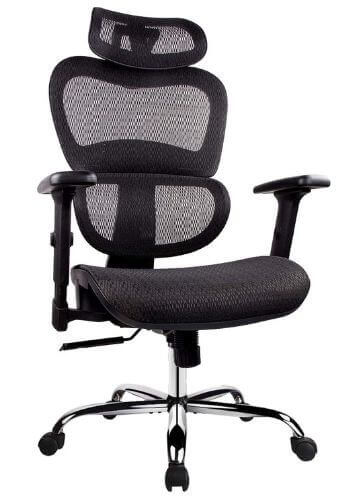 Our Top Pick
Brand: SMUGDESK
Color: Black
Material: Mesh
Adjustable Headrest
Adjustable Armrest
Tilt / Lock Function
This modern-style ergonomic office chair is made from a mesh material. It comes with headrests and armrests that you can easily adjust according to your comfort. The mesh is designed to withstand a weight of up to 300lbs. The adjustable headrest is uniquely designed to be used as a head/neck pillow.
The chair comes with a lumbar support system that promotes good posture and this chair helps relieve back pain while sitting. Its support system evenly distributes the weight and avoids unnecessary strain on your lower back, shoulders, and spine.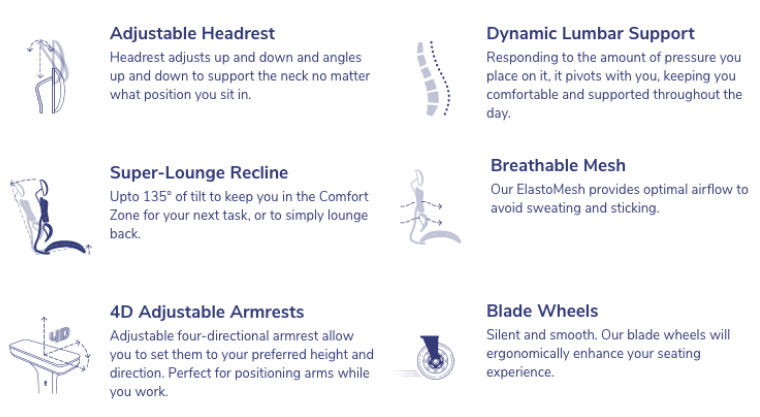 Features & Benefits
The availability of breathable mesh, lumbar support system, and easily adjustable and customizable tilt/ lock functions.
Breathable mesh lets you sit for hours without any sweating or discomfort.
The lumbar support system supports your lower back to prevent muscle stress.
You can adjust the height and tilt in the position that you find comfortable.

Pros
Breathable mesh
Tilt/ Lock Function
Lumbar support
Easily adjustable
2) Ergousit Ergonomic Chair for Anterior Pelvic Tilt Correction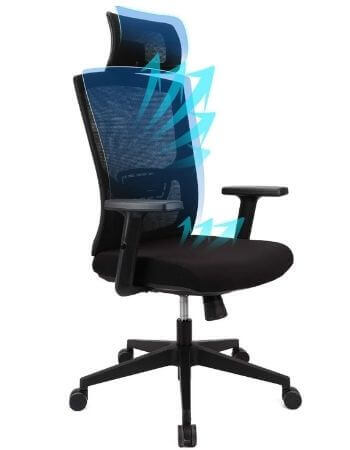 Most Breathable Chair
Brand: Ergousit
Colour: Black
Max Weight: 250 Pounds
Adjustable PU Armrest
Adjustable Armrest
Adjustable Backrest
This is an adjustable swivel chair that comes with amazing features. Moreover, it is highly adjustable and comes with lumbar support. The backrests, armrests, and headrests are easily adjustable.
You can also adjust the height of the chair according to your choice. The backrest is elastics and easily fits the spine. It helps to reduce fatigue and pain significantly.
This ergonomic chair comes with a mesh back that is breathable to avoid sweating. The seat is well padded so that you can sit for a longer time. This chair has a long service time and good stability.
It comes with an extended warranty of 5 years and a return warranty of 30 days.
How Ergousit Chair Correct Body Posture & Anterior Pelvic Tilt?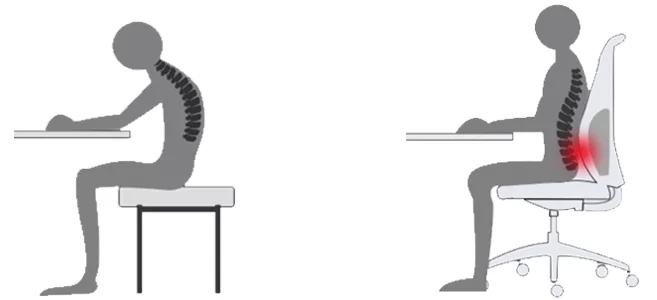 Features & Benefits
This chair has a PU surface.
It comes with an adjustable back tilt angle.
It is also equipped with adjustable lumbar support.
The PU surface of the chair gives a smooth skin touch.
You can freely adjust the back angle from 90 degrees to 136 degrees for office mode and rest mode.
Lumbar support alleviates pressure on the shoulder and back and makes your sitting comfortable.
Pros
High-Density Padding
Breathable Mesh
Easily Adjustable
5-year Warranty
Cons
Time Taking Installation
Pricey
3) Dourest Gold Leather Ergonomic Chair for Posture Correction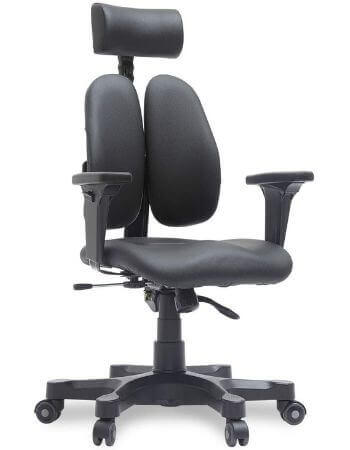 Special for Anterior Pelvic Tilt
Brand: Duorest
Material: Metal Fabric
Colour: Black
Triple Y Base Structure
Dual Backrest
Adjustable Armrest
This uniquely designed office chair has an ergonomic design. It comes with a triple Y structure that keeps the back free from pressure. The backrest can move flexibly on all three axes. Pressure reduction helps you maintain a good posture. The height and depth adjustable armrests naturally support the elbows and wrists.
Due to pressure free sitting experience, I recommend this product as a best chair for tailbone pain.
By enabling the dynamic sitting, you can easily change the posture to another. The curved seat pan ensures the muscle movement of the user and blood circulation and provides comfortable seating for long hours. All these features promote natural posture and reduce fatigue.
DUOREST Gold Posture, Executive Office Chair Feature Video.
Duorest Theory by Dr. Matthias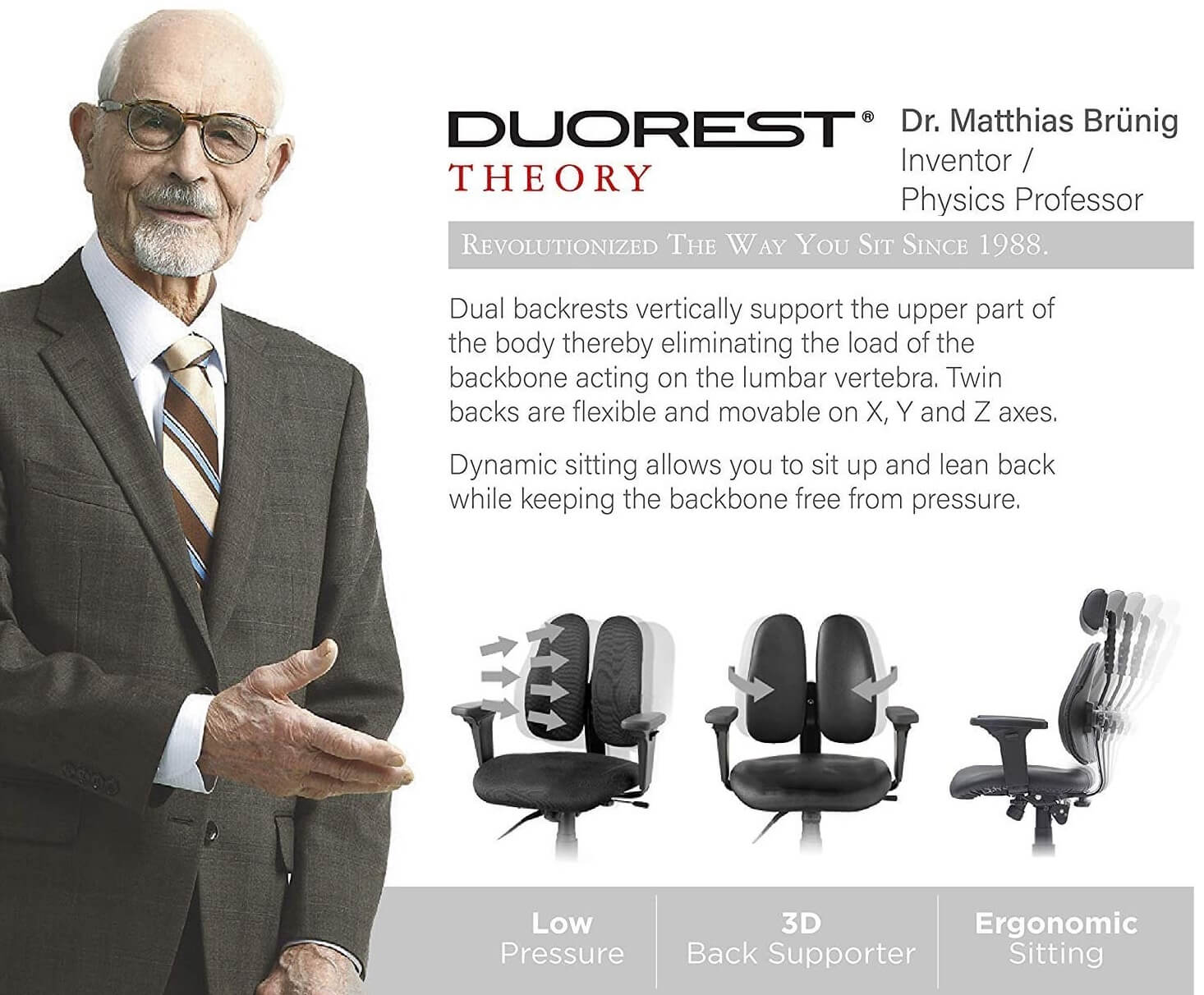 Features & Benefits
This chair features a dourest system with twin backrests.
It comes with an adjustable tilt degree and triple Y urethane castor base.
The twin backrests support the upper part of your body to eliminate pressure from your lower back.
Adjusting the back, you get complete support no matter in what position you are in.
Moreover, the triple Y urethane base provides firm support to your weight.
Pros
Highly Ergonomic Design
Curved seat pan
Free backrest movement
Adjustable Back depth
4) DRAGONN Ergonomic Kneeling Office Chair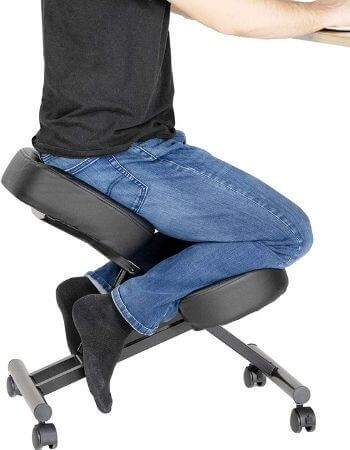 Kneeling Chair for Anterior Pelvic Tilt
Brand: DRAGONN
Color: Black, White
Item Weight: 18.92 pounds
Kneeling Feature
Adjustable Height
Angled Seat
This ergonomic chair is equipped with a mesh three-inch-thick cushion. This chair comes with four casters so you can move freely.
Moreover, this kneeling chair anterior pelvic tilt is long-lasting and has a solid metal base. It can easily support up to 250 lbs. of weight. You can also adjust the height that suits you.
The height of this kneeling chair ranges from 21 to 31 inches which allows you to find the perfect position for yourself. This chair is angled at 90 degrees for maximum comfort.
Lastly, the cost of the chair is comparably less and is ideal if you want to improve your posture.
Features & Benefits
This kneeling office chair has four locking wheels.
The height is adjustable.
And the back has very thick mesh cushions.
This chair is highly mobile and easy to use.
It fully supports the body.
The cushions make it very comfortable.
Furthermore, it increases your productivity and is ideal for both home and professional use.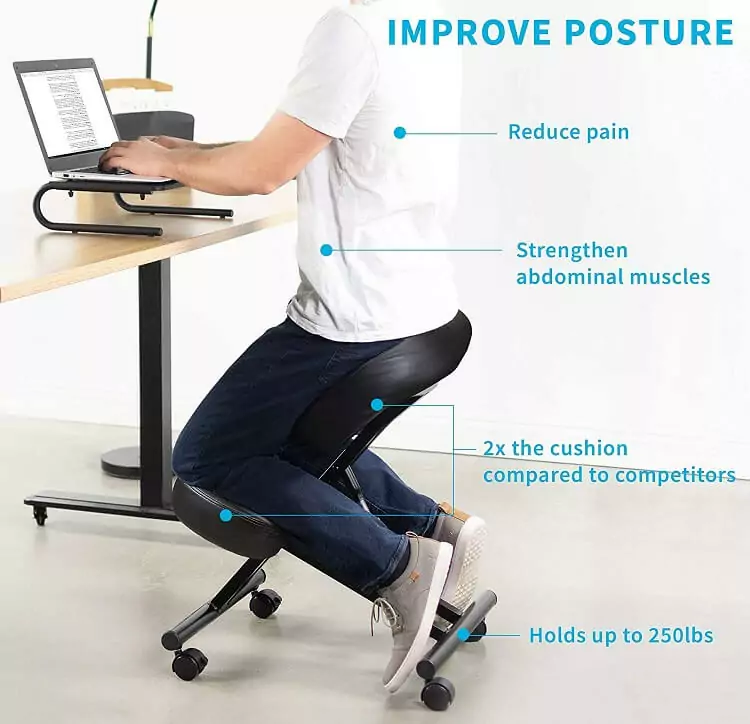 DRAGONN Kneeling Chair (DN-CH-K01B) Assembly Video
Pros
Heavy Duty
Portable
Kneeling Support
Thick Cushions
5) Nada-Chair Back-up With Cushions – Most Suitable for Anterior Pelvic Tilt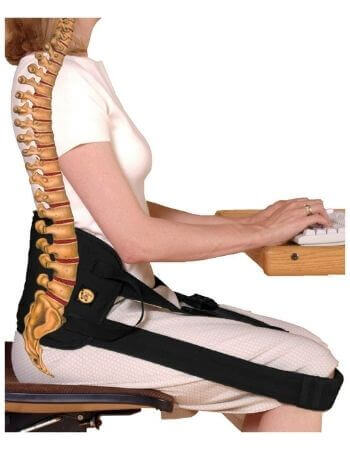 Offer Ergo Support to Lower Back
Brand: Nada-Chair
Color: Black
Item Weight: 1 Pound
Dynamic Support
Premium Back Support
Extra Cushions
The Nada-Chair Back-up is specially designed to provide firm support to the lower back. It helps to maintain correct posture and helps decrease pressure on the lower back hence helps in back pain. This chair eases back pain and helps you sit up comfortably. It also fits perfectly for people with bigger body build.
The back support system of this wearable chair comes with a standard accessory that is the CushShins. They help to support three times more leaning weight as much as the area of shin. It can be folded into a pouch so that you can bring it anywhere with you.
Features & Benefits
The Nada-Chair Back-up is equipped with a back support system.
It comes with cushions for the lower back and knees as an accessory.
It can also be easily folded in a pouch.
You can use this backup chair to provide complete support to your back, as the cushion makes it more comfortable for more prolonged use.
Also, it helps you correct your posture and relief back pain.
Moreover, you can carry it in a pouch and take it anywhere with you.
Pros
Easily Portable
Durable
Padded Comfort
Multipurpose
Related Article: Ergonomic Recliner for Back Pain
Things to Keep in Mind Before Buying Chairs for Anterior Pelvic Tilt Correction
Having the right ergonomic chair to support your back is crucial for posture correction, especially the spine problems such as anterior pelvic tilt. You must be careful while choosing the right product so that you don't end up wasting your time and money.
In the above article, we have provided you comprehensive details of some options that you should go for.
If you are still confused about which chair you should buy for your comfort, then don't worry. Because there are a few things you should consider before buying a chair for your anterior pelvic tilt issue.
To choose the right product, make sure that the one you go for has all the features mentioned below:
● Lumbar Support System
Make sure that the chair you choose is equipped with the lumbar support system. It should firmly support your lower back and give you a comfortable sitting posture. If the chair doesn't support your back, it is of no use because you will have back strains and spine issues due to this.
● Appearance
You will be using this product for a more extended period so make sure to choose the product that has a modern design that compliments your environment. Using the chair that looks aesthetically pleasing will make you happy as compared to the old design chair.
● Durability
Also, check if the chair is durable or not. The material that is used in the chair should be long-lasting and resistant to wear and tear. Ask the provider about the product's warranty because the more warranty the product has, the more reliable and durable it is.
FAQs about Anterior Pelvic Tilt
1. What Is Anterior Pelvic Tilt?
It is the condition in which the pelvis is rotated forward. The pelvis causes the spine to curve. It results in postural dysfunction, and the patient has a curved spine which is painful.
2. How Do You Sit To Fix Anterior Pelvic Tilt?
To fix the anterior pelvic tilt, you have to sit on a firm surface. Make sure to keep your spine neutral with your head facing forward and straight. Also, keep your shoulders relaxed, and your pelvis tips down as if you are slumping.
3. What Does Pelvic Tilt Do?
It is caused by long periods of sitting without stretching. It can alter the shape of your spine and cause muscle fatigue as well. If left untreated, it can also cause muscle aches, especially in the thigh muscles.
4. How Can I Improve My Anterior Pelvic Tilt?
Anterior pelvic tilt can be improved easily by some exercises. To improve anterior pelvic tilt, use chairs that support your lower back and help you correct posture
our posture, and maintain the natural S shape of your spine.
5. How Long Does It Take To Fix Anterior Pelvic Tilt?
The time required to fix anterior pelvic tilt entirely depends on your age, weight, genes, and therapy. Regular exercise and correct sitting can help you to fix it in a shorter span of time.
Final Words & Suggestions
Summing up, anterior pelvic tilt can lead to further complex health issues if left untreated. This article has provided you with multiple options for ergonomic chairs that you can buy for yourself to fix the problem and support your back.
If you are looking for a premium product with all the features and offers maximum comfort, then Dourest Gold Ergonomic Office Chair is the best choice for you. If you are looking for a budget-friendly chair that provides lumbar support, you should go for Nada-Chair Back-up.
If you are searching for a chair with ergonomic features and overall a good product and is worth the price, you should go for Ergousit Ergonomic Office Chair.
If you still don't find these chairs up to the mark, then you can use the above mention buying guide to choose the right product for yourself. So get the perfect chair for you and correct your posture right away!
Also Read: Comfortable Chairs after Back Surgery