Are you searching for the best microfiber recliners for sinking in a comfy and relaxing cushion after a long hectic day to maximize comfort? 
If yes, you are in the right place as we will review the Top 7 Best Microfiber recliners. Whether you are shopping for the first time or want to change your old recliner, these are the finest reclining chairs for everyone.
A recliner is an armchair with having superior comfortable material and design. Moreover, recliners have different adjustable angles, so you feel relaxed in them. Also, different designs and colors are available in these chairs, which add beauty to your home décor.
Furthermore, if you want to combine aesthetics benefits with comfort, buying a recliner is a suitable option. If you are tired of swallowing large-size pain killers for back pain, then go for a recliner with heating and massage features.
7 Best Microfiber Recliner Sofas | Review
If you have been trying to find a suitable recliner for you, we are here to help you with that by reviewing the top 7 best mircrofiber recliners for you.
1) Esright Power Lift Recliner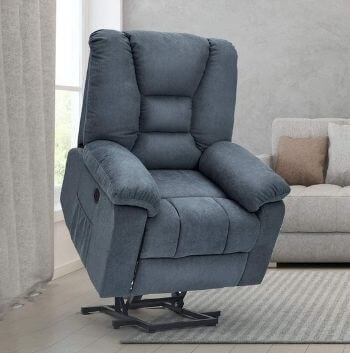 Microfiber Electric Recliner Chair
Color: Blue
Material: Textile
Brand: Esright
Vibration massage
Reclines up to 130 degree
Five modes, i.e., pulse, wave, press, auto, and normal
Esright Power Lift Chair is an elegant-looking firm recliner sofa. It includes vibration massage, powerful lift function, lumbar heating, and a stable frame. The solid metal frame of the chair makes this design stable, reliable, and can hold up to 330lbs easily. Besides, the extra padded armrest and extra-wide design provide ultimate comfort.
Mainly with an increase in age, your knees become painful due to weakness, and standing from a seat becomes difficult. So, if you are experiencing leg or back pain, this great recliner chair is suitable for you. Moreover, this chair reclines forward with the feature of TUV approved silent lift motor so seniors can effortlessly stand without putting stress on the back and knees.
Furthermore, this recliner sofa offers a 130-degree reclining position. With this feature, you can watch TV or even sleep while enjoying body massage. It is easy to clean and maintain, having a glossy surface and sleek look made up of double color fabric.
Features & Benefits
The heating provided by this chair is optimal and at a comfortable level.
The four areas of the massage focus are the lumbar, leg, thigh, and back.
Moreover, the five modes, namely wave, normal, pulse, press, and auto, fulfill your message demand.
It is an ideal chair for older individuals in cold winters if they are suffering from back pain.
Also, it includes a timer so you can choose between 15, 30, or 60 minutes.
Start with the shortest time first if you are not used to its message feature, and then extend the period once your body becomes compatible with it.
Cons
Slightly slides
Stiff footrest
2) Flash Furniture Contemporary Purple Recliner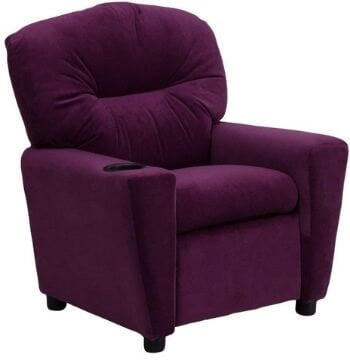 Microfiber Kids Recliner
Color: Purple
Material: Textile
Brand: Flash Furniture
Plush padded back with cup holder armrest
Child Sized Recliner
Flip-Up Storage Arms
If your little one wants a recliner chair of his own, then this is a perfect chair for him. With this chair, your kid will enjoy the comfort same as you enjoy with your recliner chair. Kids love having their place to sit in according to their size. And their happiness knew no boundaries when it is the same as their parents.
It is made up of a strong wood frame and soft foam, which is durable. Moreover, it has storage arms so your kid can store items in it and retrieve them when they need them. Different primary colors are available, so you can choose from them by your child's room theme.
Additionally, this extra padded chair is an ideal seating solution that will look compatible with your other furniture at home as well as a playroom. It can hold weight up to 90lbs and is made up of CAL 117 fire retardant foam.
Features & Benefits
It has an additional headrest cover in the perfect size.
Approximately 31 beautiful colors are available.
You do not have to worry about the color selection, even if your child is picky in colors.
Its perfect size is suitable for relaxation as well as sleep.
Pros
Easy to clean
Additional Headrest Cover
31 colors available
Perfect size
Cons
Hard to recline
Less durable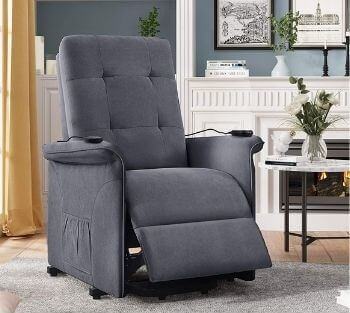 Microfiber Swivel Recliner
Color: dark grey
Material: microfiber, textile
Brand: Merax
Four different modes of message
Counterbalance lift mechanism
Overstuffed backrest, seat, and armrest
This power lift recliner has a massage mechanism and power lift feature that pushes the entire chair up. It is helpful for older individuals who have knees and backpack because it enables them to stand effortlessly without putting pressure on knees and back. This recliner is suitable for the bedroom, home theater room, and also living room.
Furthermore, the chair has four different modes of messages. The modes focus on a lumbar area, and you can choose the location and intensity of the massage. Also, it focuses on your waist, making you comfortable by minimizing tiredness. Its adjustable feature makes allows you to select a posture of your own choice.
The product comes in 2 packages, including the use and assembles instructions. Its assembling is relatively easy and takes about 10-15 minutes for installation without any tool. Also, the 1-year guarantee is assured, and customer service support is available 24/7.
Features & Benefits
The power lift massage recliner is made up of soft and comfy microfiber fabric.
It is filled with a high-density sponge along with an overstuffed backrest, seat, and armrest.
It reclines up to 135 degrees, and its extended footrest allows you to fully stretch and relax.
It provides more comfort than you expect.
For convenience, it has a multifunction remote, through which you can control its massage and lift function
Pros
High-density sponge
Relax and adjustable
Suitable for disable person
Soft and comfortable
Cons
No luxury feature
Only grey color available
4) Homelegance Laurelton 43″ Microfiber Recliner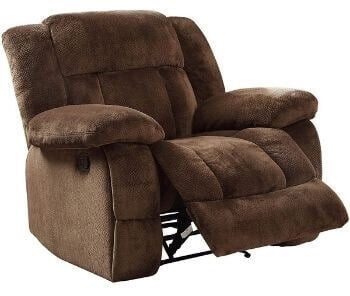 Microfiber Glider Recliner
Color: Chocolate brown
Material: vinyl, wood
Brand: Homelegance
Oversized seats, arms, and backs
Dark brown premium textured plush
Gliding motion with lever action reclining mechanism
Homelegance Laurelton 43″ Microfiber Glider Recliner is 100% polyester covered with dark brown premium textured plush microfiber. It contains a lever for reclining mechanism and gliding motion when you do not want to recline it. Place it in your bedroom or lounge and enjoy watching TV while relaxing your back. According to recliner mechanism and ergonomic features, it is most comfortable chairs for watching tv.
Moreover, the arms are oversized and comfortable padded with extra plush. The back and seat are also filled with soft fabric, which provides additional support to your spine. The width of the chair is 18 inches, and its depth is 23 inches.
Furthermore, it can withstand about 300 lbs weight, so suitable it is also ideal for overweight individuals. Seat height is about 20 inches, and two colors are available, namely chocolate brown and chocolate grey. Its assembly requires 10- 15 minutes, and it is easy to clean.
Features & Benefits
It is a comfortable chair made up of vinyl, wood, and filled with soft plush.
It can withstand about 300lbs easily.
It is a spacious chair with good quality and can easily accommodate your home décor.
Sink into this chair after and tiring day and feel relaxed.
Pros
Easy assembly
Hold overweight person
Comfortable
Easy to clean
Cons
Low durability
Spring pops out
5) ANJ Oversized Microfiber Recliner Chair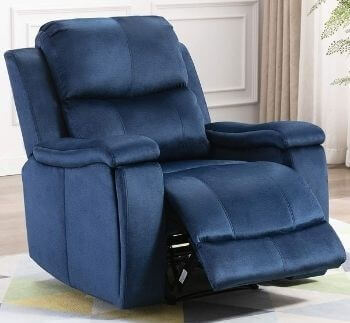 Microfiber Wall Hugger Recliner
Color: light grey, Blue
Material: textile
Brand: ANJ
Extra padded armrest and backrest
Linen upholstery with 360-degree angle rotation
Spring seat cushion enclosed with premium foam
The ANJ is a unique electric recliner with a basic design. At first glance, you may not understand its features, and it looks like an ordinary chair.
However, its quality will surprise you once you go into its details. It is the most compatible option for tall and overweight individuals as it can hold up to 300lbs easily.
Furthermore, the backrest extends up to 140 degrees without a powerlifting mechanism. So it is suitable for the individual having healthy knees as for tilt, you will require knee strength. The lightly padded armrest keeps arms at ease.
The metal staples in the arms are covered with leather and have a tilt function so you can adjust your angle per your preference.
Additionally, it is an eco-friendly chair with an LVL lumbar. Laminated veneer lumber is an architectural-grade substance having strength and stability more than natural wood. So it is best oversized microfiber recliner for heavy weight people.
Its assembly is easy and takes about 10-15 minutes to install. Besides, you can easily clean it with a cloth or sponge.
Features & Benefits
There is a button located on the right side which works for adjusting the reclining position.
Press and hold it; the foot and backrest would start to move.
Pull your hand from the button once you adjust your posture.
Additionally, you can use it in the office or home as it provides a relaxing feeling after a long tiring day with its 360-degree rotation angle.
Pros
Easy to assemble
Stable and reduce stress
soft and comfortable
eco-friendly lumber
Cons
cannot hold over 220lbs
Springs pops out
6) Flash Furniture Harmony Brown Microfiber Recliner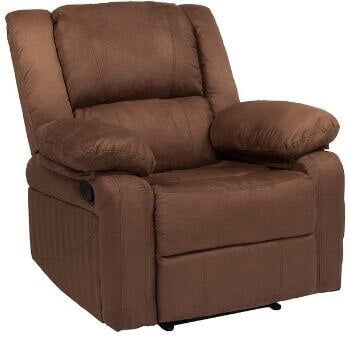 Microfiber Oversized Recliner
Color: chocolate brown
Material: Metal, fabric
Brand: flash furniture
Plush padded arms
Recliner leather with plush pillow back cushion
Lever mechanism for neck and lumbar support
Flash Furniture Harmony Series Chocolate Brown Microfiber Recliner is fabulously comfy. This recliner is compatible with every home décor as it is exceptionally stylish. Also, you can place it in any living space, in the lounge, or in the bedroom. It is available in four colors and offers the perfect balance of comfort and relaxation.
Moreover, the padded arms and plush back cushion give you a comfy feeling, and you can sink into it after a hectic routine.
Also, it provides a lever mechanism for lumbar and neck support, so it is the best choice for everyday use. It offers relaxation by stretching your feet while watching TV or during working on a laptop.
Furthermore, the foam used in this chair is fire retardant and can hold up to 300 lbs weight. Installation and assembling of the chair are pretty easy. It requires no extra tool and takes only 25-20 minutes.
Features & Benefits
The pillow back cushions, microfiber upholstery, and plush arm are a great combination.
You can treat yourself to a relaxing place at the end of your day with this chair.
The simple design of this recliner will make it a great addition to your living room or family room to relax or to just hang out.
Also, You can easily clean and maintain it. You can clean it with a soft cloth with water or detergent.
Pros
Comfortable and relaxing
Remarkably stylish
Easy to assemble
Easy to clean
Cons
Small size
Low durability
7) Christopher Knight Home Halima Recliner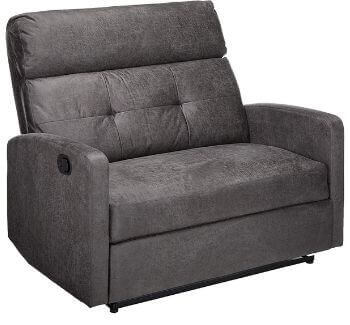 Microfiber 2-Seater Sofa
Color: slate
Material: microfiber
Brand: Christopher Knight Home
Provide warmth and perfect alignment to the body
Enclosed in durable fabrics for durable usage
Plush cushions for relaxation and comfort
It is a stylish as well as an affordable recliner. The fabric of this chair is durable and easy to clean. It is spacious, having plush cushions for relaxation. So, you can enjoy relaxing with your loved ones. It provides warmth and a comfy feeling when lying down on it.
The chair's back is high, so it gives full support to the spine and neck area. It is good for individuals who work all day on a computer looking at screens because it will give high-backed comfort with its optimal height. It includes two-seat recliners and is easy to operate.
Additionally, it is available in charcoal and fabric with navy blue and slate colors.
Moreover, it provides 360-degree angle rotation with a stand for putting your legs. It can hold up to 50 lbs weight. The headrest height is perfect for full head support, and the lumbar position is just perfect.
Features & Benefits
It is easy to assemble and easy to clean.
Its size is just perfect and spacious.
It will make your living room longer as you will have more space to sit and relax.
You can put your feet on its foot stand for a relaxed posture.
Pros
Stylish and affordable
Easy to use
Comfortable chair
Easy assembly
Cons
Unable to hold over 300lbs
Low durability
Things to Keep in Mind Before Buying Microfiber Recliners
Buying a recliner is a perfect option, but it is not that much easy. With so many options and sellers available, it becomes tricky to make the final decision. Do not make a hurry while buying the recliners for you as you will regret it in the future if you make the wrong choice.
Also Read: Recliners for Degenerative Disc Disease & Tailbone Pain
To avoid this problem, we have discussed certain important features you should consider while buying a recliner. Let's discuss this in detail!
i) Size
One of the most important things while selecting a recliner is its size. You should not only consider the size of the chair but also notice that either it will be a good fit for your weight to height or not.
Make sure that the chair gives full support to your neck, back, and feet. Also, check the weight-holding capacity of the chair.
To make this decision easy, take a measurement tape, measure the chair you already have at your home, and buy a similar one. Measure the height of the back and width of the seat.
Also, measure the floor from the top of the recliner seat cushion so that it fits perfectly to your feet' height. Full support is necessary for a comfortable posture.
ii) Space
Check the space available in your room before buying a new recliner. Usually, recliners must be placed from 18 to 22 inches away from the wall, which could be a problem if you have less space. To avoid this issue, you can consider a wall-hugger model that fits within 4-6 inches of the wall.
Moreover, the space-saving recliners start against and do not bang into the wall behind it while sliding forward. If you have less space, then select a small size recliner.
Also, for checking how the chair will look in your room, you can use Amazon handy option, i.e., views in your room option.
iii) Fabric of chair
Recliners are available in different kinds of fabrics. These fabrics add color and style to the chair. However, the most popular among all is leather. Most people prefer recliners made up of leather fabric as they are stylish, durable, and easy to clean.
Moreover, choose a fabric that is comfortable and matches your home décor. You can also choose a recliner that has microfiber in them as they are breathable. Indeed modern fabrics like linen, microfiber, and imitation leather are easier to clean and stain-resistant.
iv) Cost
Another most important thing while buying a recliner is the cost. While buying a recliner, keep in mind the cost. Also, you have different options within a specific amount of price, so before diving into a final choice, so go through all of them.
Moreover, you can go for recliners having a low price tag.  But remember to check the quality of the recliner while buying a cheap one. If you buy a low-quality cheap material, then it will not be durable, and you will waste your money simply.
FAQs about Microfiber Recliners
Q: Explain Microfiber?
A: It is a synthetic fiber that contains polyamide and polyester. Polyester is a kind of plastic, while polyamide is nylon. The polyamide adds density, absorption while the polyester gives the structure of the towel.
Furthermore, it is a material that is soft, durable, and absorbent, making it perfect to use for furniture and recliners. Also, it is excellent for sports gear, apparel, and cleaning.
Q: Benefits of Using a Microfiber Recliner?
A: The microfiber recliner is most comfortable and durable. Also, it is easy to clean with water or detergent. These are designed to last longer, so do not have o worry about rips and tear in other recliners.
Microfiber recliners do not absorb dust, and it is good for individuals who are allergic to dust, as sitting in a recliner that collects ducts makes one's life miserable. If you want something to look better then leather, then go for microfiber recliners. They are cheap in leather.
Q: Is Microfiber Stain-Proof?
A: Microfiber is water and stain-resistant but not completely immune-proof. But the tight weave of microfiber holds the liquids on the surface, avoiding them to absorb completely into the fabric.
If you immediately clean the spilled liquid with cloth or tissue, it will become clear as if nothing ever spilled on it.
Q: How to Clean Microfiber Furniture?
A: You can clean microfiber furniture regularly with a quick vacuum. Also, you can use a cloth or stiff fabric brush to remove dirt. Keep the surface free of dust, crumbs which can harm the fabric.
After the vacuum, mix the liquid cleaner with water and remove the occasional stain immediately with a dampened microfiber cloth—another best way to clean microfiber furniture wipes, as they are an easy-hold solution. As of last, allow the fiber to dry completely.
Conclusion
In the above article, we have reviewed the seven best Microfiber recliners(Swivel, Oversized, Leather) for you. Although they all are excellent, we would recommend the top three, namely Esright Power Lift Microfiber Electric Recliner Chair, Power Lift Massage Recliner Chair,  ANJ Recliner Chair, to you.
Briefly, these recliners are designed to provide comfort and great value. Also, these are the most durable, having a heat massage mechanism. The power lift mechanism included in these recliners is very compatible with seniors. These are budget-friendly as well as eco-friendly chairs.
Indeed having a large size pill and regular exercise is a tricky thing, so you can go for a recliner at your home. There could be no other better option to experience comfort and relaxation than sitting on a recliner with a coffee your favorite movie.
We are sure this guide will help you to find out the best microfiber recliner that will be a super fit for you.