Do you want to upgrade your gaming experience and struggle to choose the best VR chair that's also comfortable?
If yes, then this article is for you. This guide will allow you to dig deep and help you to choose the most comfortable VR chair for you.
As sitting on a chair for prolonged gaming hours can cause back pain and posture deformity. The problem extends when you don't have the right chair that fails in providing comfort.
Since VR gaming is the new desirable trend, so many VR chairs with the latest features are becoming part of the market and help in limiting the health risks associated with gaming.
If you want to enter the virtual world, have the best gaming experience with comfort, and be confused about which VR chair will be a perfect match for you.
Then, let's get into the details!
7 Best VR Chairs for Playing Games in 2022
1) Roto VR Chair – Comfy for Long Hour Gaming Sessions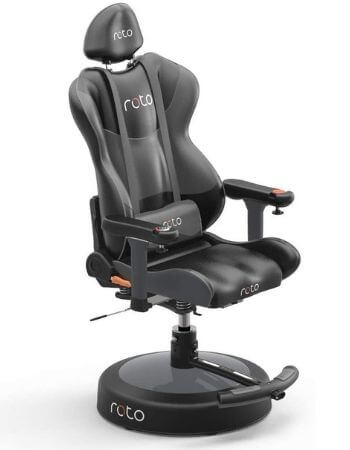 Motorized Interactive Gaming Chair
Weight: 116lbs
Power: 24V 2A for accessories
Material:PU Leather
Effortless 360 exploration
Rechargeable head tracker
Responsive double rumble engine
Roto VR is a technical upgrade of a VR experience providing built-in rumble, broad headset compatibility, and cable management. It rotates automatically depending on which direction you're looking.
Moreover, it provides a tangle-free wire experience when you continuously move around. It also includes in-built rumble feedback, which works with the computer's audio.
The control box located at the underside of the chair supports 3 USB data ports and 2 USB charging ports. Also, it has a 24V 2A power for additional accessories that include TMX 150 force feedback steering wheel and touch pedals.
Besides all these features, Roto VR ensures you feel comfortable for the long gaming sessions with effortless 360-degree exploration.
Pros
Auto-turns to wherever you're looking
Adjustable arms and removable headrest
Comfortable for long gaming sessions
Provides highly realistic experience
2) RESPAWN 900 Racing Style VR Gaming Recliner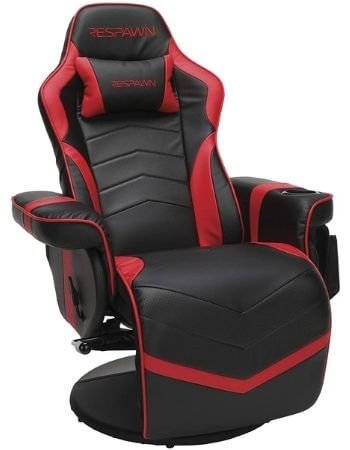 Our Top Pick
Weight: 48.5lbs
Material: Wood, Leather, Metal
Dimensions: 35.04 x 30.71 x 44.8 inches
360⁰ swivel pedestal base
Reclines up to 135 degrees
Segmented padding and headrest pillow
High reclining back, wheeled bases, segmented padding, and headrest pillow makes it different from an ordinary chair. Just like the seat and back, the armrest is also wrapped in faux leather.
In addition, a removable side pouch for securing game controllers and a cup holder lets you binge gaming and refuel without interrupting the game.
Furthermore, this chair has the ability to recline up to 135 degrees securely. A swivel base pedestal lets you turn around at 360 degrees, providing support to the footrest and reclining back. In addition, the footrest and chair are continuous, not giving space for wires to get tangled.
You may use this chair for watching TV.
Pros
Adjustable backrest
Tangle-free gaming
Comfortable footrest
Lifetime warranty
Cons
Height can be improved.
Footrest makes a sound while reclining.
3) OpenWheeler GEN3 Racing Wheel Stand Cockpit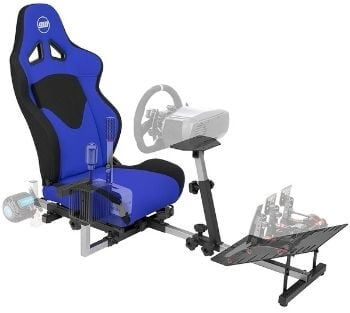 Our Top Pick
Weight: 68.7lbs
Dimension: 37.5 x 23.5 x 17 inches
Material: Leather
Supreme racing cockpit seat
Compatible with all racing wheels and pedals
Gear shifter mounts for either left or right-hand side.
The Open wheeler racing and flight simulation cockpit with unbeaten compatibility provide fantastic lateral and back support providing great comfort during gaming.
Also, it is super mobile and very compact and can easily be moved around. The cockpit is sturdy and firmly fix the shifter and wheel in place.
In addition to that, the seat can significantly recline back. It can also be moved forward when you have to move your setup when not in use.
Its compatibility with wheels and pedals like G923, G29, G920, Thrustmaster, Fanatech, etc. and makes it more likeable among gamers.
Pros
Easy to move and store away
Most adjustable cockpit
Different angles and positions
Compatible with any gaming console
Cons
The seat is relatively low
The steering wheel can be upgraded
4) X Rocker Pro Series H3 Gaming Chair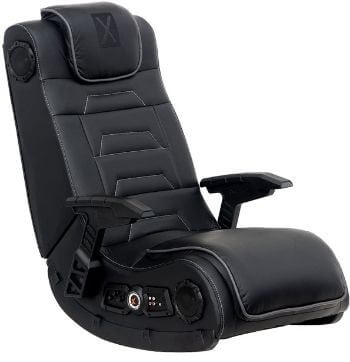 Our Top Pick
Weight: 34 pounds
Dimensions:13 x 22.05 x 20.87 inches
Material:Durable wood and metal frame with padded vinyl
Side control panel with volume
Built-in speakers and powered subwoofer
Foldable gunstock arms
This VR chair is included in the list because of its outstanding features like sound, vibration, and wireless connectivity. Its 4.1 sound (4 speakers and one subwoofer) paired with vibration gives an immersive gaming experience.
Moreover, it comes with the comfort level that a gamer always prefers. An exciting feature of X Rocker H3 is that the audio ports let other gamers connect through the chair.
In this way, other gamers can also enjoy the same sound when connected to the same game console.
Pros
Easy to clean.
Padded headrests.
Suitable for long gaming sessions
Easy to store.
5) Lap Works VR Swivel Seat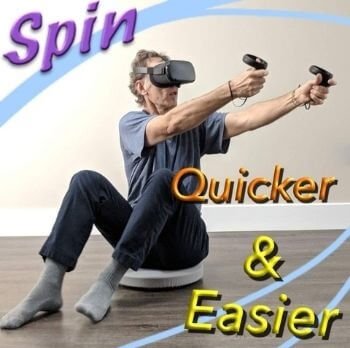 Our Top Pick
Weight: 2 pounds
Dimensions: 16 x 16 x 2.4 inches
Material: Polyethylene foam
Heavy-duty foam
Stainless steel ball bearings
Quick and easy 360 rotation
Lap works VR swivel seat protects a gamer from falling due to confusion and dizziness during gaming. It is inexpensive and equally suitable for kids, adults, and older people. Additionally, it spins over 18 stainless steel ball bearings and has a capacity of bearing 250 pounds.
Also, 1.5-inch cushion foam will not wear out with time.
Furthermore, since the user rotates the seat with feet, no batteries or electric connections are required. You can always wash it if it gets dirty as it has a removable and washable slipcover.
The best thing about the LapWorks VR swivel seat is that it is inexpensive, lightweight, and portable. So, you can move it or store it whenever you want without any hassle. Its also best chair for sitting with cross legged.
Pros
Inexpensive
Removable slipcover
Portable
No assembly required
Cons
No automatic rotation
Not suitable for people with back pain
6) Openwheeler Advanced Racing Seat Gaming Chair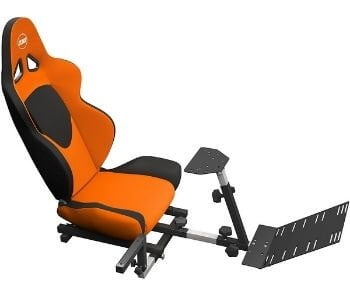 Our Top Pick
Weight: 62.9 pounds
Dimensions: 33 x 25 x 22 inches
Material: Textile
Suitable for all gaming consoles
Polyester paintwork
Total adjustment control
The best thing about the Openwheeler Advanced gaming chair is that it is suitable for most brands' racing wheels.
Not only that, but it is also compatible with Playstation3, Playstation2, Playstation1, Xbox1, Xbox360, Xbox, Nintendo Wii, Nintendo Gamecube, N64, Sega, and PC.
Moreover, depending on what type of gamer you are, you can always place the gear shifter on either the driving simulator's right side or left side.
Speaking about comfort, its simple and unique design promises a comfortable gaming experience. The sturdy framework with the supreme racing seat is what a gamer asks for stability and game control.
Pros
Supreme racing seat
Stability and comfortability
Compatible with all racing wheels
High-quality material
Cons
Height requires adjustments
No cup holders
7) RESPAWN 110 Racing Style Gaming Chair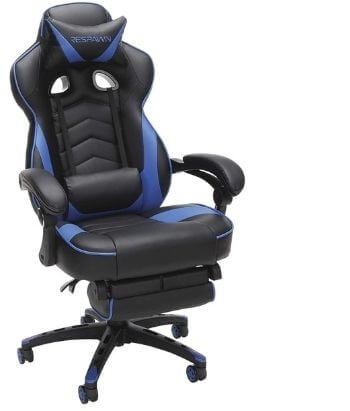 Best VR Chair with Footrest
Weight:81 pounds
Dimensions:5 x 28 x 51.5 inches
Material:Faux Leather
Extendible footrest
Full 360 swivel rotation
Headrest and lumbar support pillow
This chair provides maximum adjustability by raising and lowering your seat and reclining between 90 – 155 degrees. Its full 360-degree rotation allows you to swivel all around. Apart from independent movement, this chair has 275 pounds weight capacity. Not only it provides luxury, but also its adjustable headrest and lumbar support pillow provide support and comfort.
Also, a soft padded armrest spins with the chair as it reclines. Its extendible footrest, contoured segmented padding, and high back make it suitable for gaming purposes and long working office hours. Read full product review here.
Pros
Headrest and lumbar support
Height adjustability
Reclines up to 155 degrees
Segmented padding
Cons
The footrest can be clunky
Leather can make you sweat
FAQs about VR Gaming Chairs
What is a VR chair?
A chair that moves with the player's movement and connects the user to the virtual world. It somehow disconnects the user from the real world and lets him have a virtual world experience with comfort.
How much is a VR chair?
The VR chairs' price varies from a few hundred dollars to thousands of dollars depending upon the features and specifications. For example, if you get a chair with various features like a supreme racing seat, cupholders and swivel. Then, it will cost you more than a chair with only a swivel or racing seat.
Does VR actually feel real?
It feels very much like reality depending on the headsets, gaming, or video experience, and definitely on the video graphics. Some people even feel dizziness, nausea, or motion sickness when they find themselves in the virtual world.
You instinctively get scared by looking down if playing a climbing game.
How does VR trick your brain?
When you put on the goggles, it starts making your brain believe that you are in another world. People also show emotions like fear, excitement, joy, or even anger that involve their brains.
Our brain gets tricked into responding to whatever is happening in the game. You may read effects of VR games on mind & body.
What is 9D virtual reality?
It is the newest technology that gives the users more realism with auditory and visual exposure.
It provides the viewer with the most immersive and unforgettable experience to nearly forget about the real world. This 9D latest technology makes the viewer closest to the virtual world.
Conclusion
Now that you have a list of the seven best VR chairs with their detailed features. It will be easy for you to make the right purchase. However, do you still feel stuck and find it hard to make the right purchase? Then don't worry.
We are ready to help you through this too. Out of these seven chairs, 3 of them are highly recommended. Just take a look!
Our first recommendation is RESPAWN 110 Reclining Gaming Chair. If you're used to long gaming sessions, and in that regard, you need something more comfortable and lighter on your wallet, this can be a perfect choice.
However, if you are a person who looks more for the audio specs and looking for a chair that can also be used for watching TV, reading, and relaxing. Then, X Rocker Pro Series H3 will work best for you.
Lastly, if you need something simple and easy to clean, then LapWorks VR Swivel Seat is the right choice and worth investing in. I hope this article helps you to take better decision about choosing best VR chair for virtual reality gaming.