Health is the most important factor today. A lot of Office Workers undergo different health problems such as neck pain, back pain, shoulder pain and spinal stenosis. One of the most familiar problems is lower back pain that every third office worker faced.
If you spend most of your time at office then you need to buy the best office chair for lower back pain rather than the executive chair.
Top 3 Best Office Chairs for Lower Back

★★★★★
High Back Swivel Chair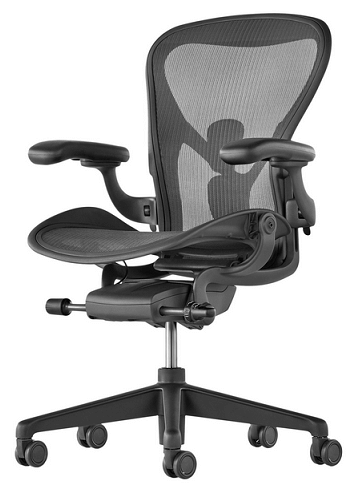 Adjust & Recline
Improve Posture
Good choice for tall people

★★★★★
AIR Health & Well chair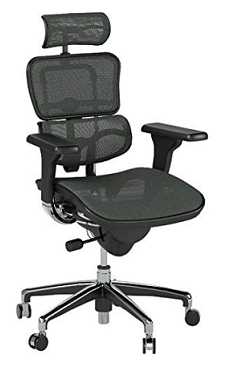 Relax Sitting
Stylish & Breathable
Made By Carbon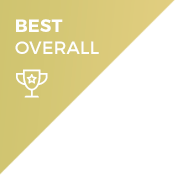 ★★★★★
Serta Ergonomic Chair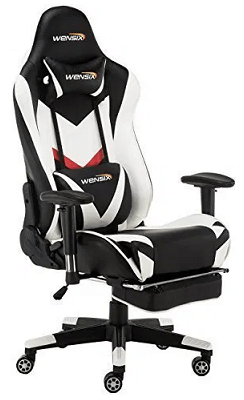 Folding Footrest
Leather cushion
Ergonomic Warranty
Best Office Chairs For Lower Back Pain | Top 10 Picks
So, now I am explaining reviews about the top 10 best chairs for bad back. I pick these ergonomic chairs on the basis of people's experience who already using them and enjoy a comfortable sitting experiences. So sit back and enjoy the guide.
1) Herman Miller Classic Aeron Task Chair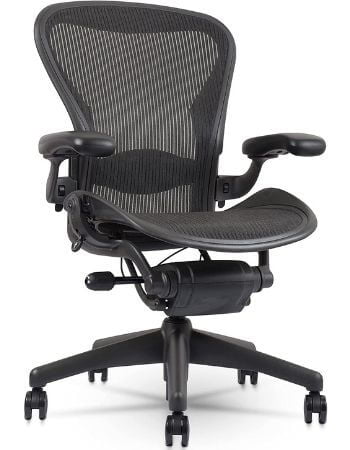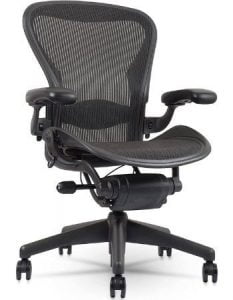 Our Top Pick
Fully adjustable
Highly durable carpet casters
Best for posture correctness
Increase productivity
Gives natural spine curve
Ergonomic chair for back pain comfort
The Herman Miller Classic Aeron Task Chair is the most ergonomic chair and it comes under the top of the list of chairs for lower back. It is a Standard Tilt Classic task chair. 
It has fixed Vinyl Arms and regular Carpet Casters. According to market research about more then 14 chairs brands and Herman Miller's office chairs reviews, it is the most popular brand in the chair world. It produces solid products with convenient warranted. This chair is easy to use and not create any noise due to worthy levers and knobs.
Most notable thing is that it is available in different sizes (A B C) and every person can purchase it according to his size adjustment. So, that way Aeron is the best ergonomic office chair.
Made in The USA, the Aeron chairs lead a new trend in ergonomic Office seating. And provide a conventional model with outstanding quality. It has a solid Carbon Classic graphite frame.
It has a 12-Year Warranty, which is the most satisfactory and qualitative point of this chair.
Herman Miller Classic Aeron Task Chair is stylish and extremely comfortable with the distribution of body weight. It further helps to eliminate back pain caused by poor posture.
But if you have a long height then you have a second appropriate option that is  Herman Miller Embody chair.
Now I am going to explain some pros and cons for Aeron Office Chair that helps you to make a buying decision.
Pros
Relax Sitting
Adjustable Size
Stylish and Breathable
Made By Carbon
Cons
Standard Tilt Limiter
Fixes Arms that not adjustable
2) Ergohuman High-Back Mesh Chair with Lower Back Support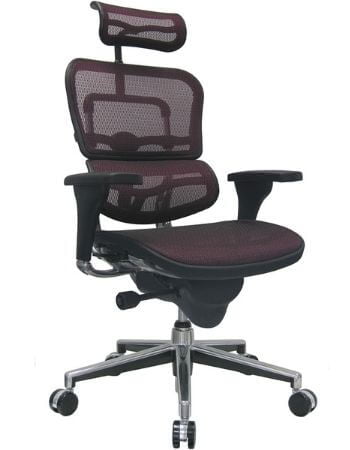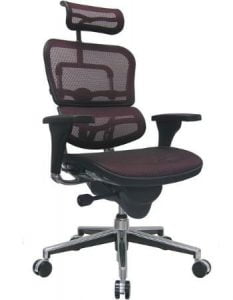 Best Chair for Lower Back Pain
Brand: Ergohuman
Adjustable Headrest
Have ergonomic lower back support
Fully breathable due to mesh back
Waterfall design make it more ergonomic
Fully Adjustable & synchro tilt mechanism
If you are finding a chair for lower back pain then Ergo human High Back Swivel Chair is more suitable for you because it has back angle adjustment that helps to adjust recline position.
Eurotech Ergo-human chair is black mesh seat chairs with a movable headrest. It is an amazing innovation supported chair with 8 ergonomic adjustments that provide the ergonomic comfort to your spinal cord & distribute body presure equally.
Mesh seat and back promote breathiness and air circulation that serves to sit long.
8 Supported adjustments include Tilt tension control, synchro-tilt, Tilt Lock, back height, seat height, seat depth, arm height, and back angle adjustment. Due to which doctors recommend a list of best chair after back surgery.
It is a chrome base chair with nylon casters that satisfies all ANSI/BIFMA standards. It's 97% of components are recyclable due to which it is an Eco-friendly chair. This chair also meets Green Guard standards and occupy indoor air quality certification.
The user can adjust the back angle and back lock of this chair on three different positions according to his comforts. It accommodates any individual need by providing back, seat cushion and headrest adjustments.
Its adjustable lumbar support provides long-term comfort. Due to which it is known as the best lumbar support office chair.
Pivoting Armrest and height adjustment feature help to do work with a variety of seated postures and body movements. These adjustments make it the best selling office chair.
Pros
Fully Customized
Easy to Adjust the Recline
Improve Sitting Posture
Good choice for tall people
3) Herman Miller Mirra 2 Chair with TriFlex Back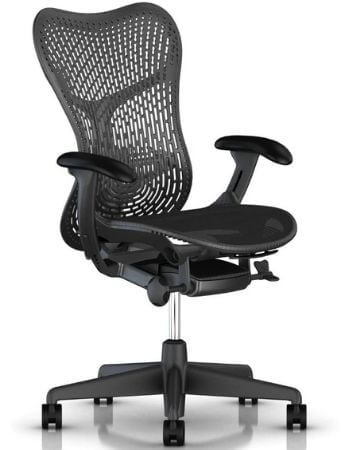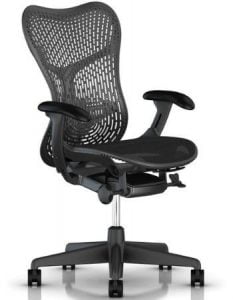 Ergonomic Office Chair for Bad Back
Best chair for back pain relief
Tilt limiter with seat angle adjustment
AirWeave 2 woven suspension seat
Flexibility & personalized ergonomics
Quickly flex between individual activities
The second best chairs in our list is Mirra 2 Chair. It is a product of Harman Miller and designs by Studio 7.5 to make it best for sitting. It is truly lean, light and responsive as your own shadow.
Herman Miller Chairs are most suitable for Office people who sit on their chairs for long hours. It is a flexible ultra-responsive butterfly back chair and provided an excellent breathable sitting environment. I highly suggest this chair for those people who are moving from one place to another while working in the office because it is one of the best moveable chairs due to its unique design.
Did you know it has adjustable arms, Standard Tilt, Air weave 2 Woven Suspension seat, and carpet casters?
These all are extraordinary features that make it worthy. It provides more comfortable and long hours sitting due to maximum breathability.
It is a personalized ergonomic chair having a lightweight design with a mixture of simplicity and flexibility.
One prominent feature of this chair is it provides Tilt adjustment for the person who sits on the chair. And also overcome back pain difficulties by equally weight sharing. Made in the USA and provide 12 years of convenient warranty.
One more important feature of this chair is that it has tilt Limiter with seat angle adjustment, Flex Front seat adjustment, and alignment of lumbar support. And also support Arm adjustment that helps users to set arm according to their desire.
Open Weave Plastic Back makes it more breathable and the adjustment of arms and seat maximize user experience better. It supports a standard size cylinder that accommodates seat adjustment between 16 inches to 20.5 inches.
Pros
Butterfly Back Chair
Seat Angle Adjustment
Facilitate Arms Adjustment
Good for motion work
4) Modway Ergonomic Mesh Chair for Back Pain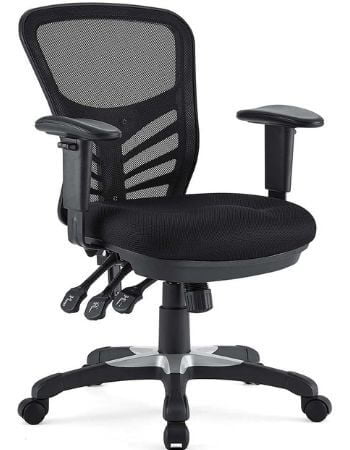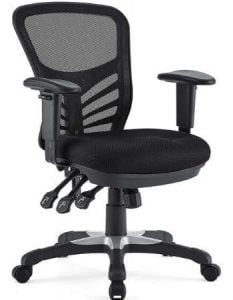 Best Budget Ergonomic Chair
Featuring reliable ergonomic support
Breathable mesh back & passive lumbar support
Weight Capacity: 330 lbs
Adjustable seating with 360 degree swivel
Best choice for computer desks
This is an affordable and user-friendly chair with Articulate style, design by Modway. Modway is a well-known distributor of Office furniture. It refurbished mid-century style with a touch of contemporary flair for an eclectic selection to suit every taste.
Modway Articulate Mesh chair make a turning point in your office tasks. It provides freshener sitting the whole day with a breathable mesh back and plush fabric cushion seat.
To adjust your height and size, it provides back height and seat depth adjustments. It has sturdy armrests and height adjustment helps your vertical seat posturing.
It also provides recline and inclines comfortably to your backbone and helps to relieve lower Back pain.
Articulate behavior plays a good role in mass weight distribution. You must need it if you naturally perform tasks without exertion because it has five hooded dual-caster wheels that help to easily mobilize over the carpeted or hardwood floor.
Convenient Feature:
Reliable Ergonomic support and

Passive Lumbar Support

6'' thick mesh seat cushion maximize sitting capacity.
It is a lightweight executive Office chair with a sturdy and supportive
Articulate style. It comes in a variety of colors and holds up to 331 lbs weight.
One-touch chair height adjustment with 360-degree swivel, a stressless tilt, and a lock system makes it more fabulous.
Pros
Perfect Height Adjustment
Contemporary Design
Good for office work
The seat is double thicker than a regular seat
Cons
Due to mid-back design, it does not has a headrest.
5) Modway Reception Desk Chair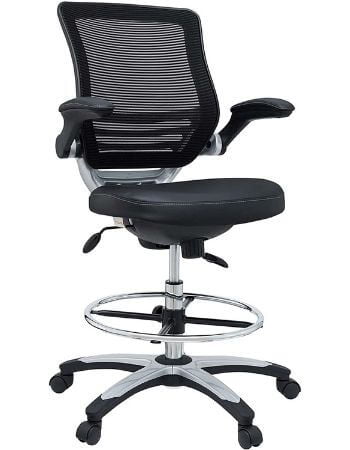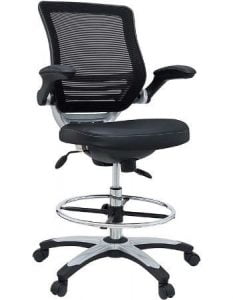 Chair for Lower Back Support
Having flip-up arms
Hydraulic seat with adjustability
Lower back lumbar support
Best for practice guitar,painting & sewing
360 Degree swivel & Seat tilt tension control knob
Modway Drafting Chair is mostly used as a reception desk chair due to its Edge vinyl drafting. Generously padded vinyl seat and chrome plated foot ring make it a more advance Studio chair.
Pneumatic Height Adjustment help to adjust chair height and has 90 degrees Flip-Up Padded armrests capable to adjust arms according to your appetite.
This chair works like a drafting stool, so that's why it's most suitable for reception desk chair, Office & Home use. This chair implements cutting edge ergonomics to give a comprehensive seating experience.
It also supported lower back lumbar support with Mesh back, which makes it breathable.
One more numerous thing makes this chair unique is a tension control knob that helps to reduce sitting tension and padded waterfall seat aid to ease pain and pressure around your thighs.
Edge is the best tall chair that ideal for school, office, studio, and reception. The foot ring is the most stylish feature of this chair that encourages a user to relieve their feet.
Like a tall studio chair, It flip-up arms help during work of painting, sewing, and architecture designing. With 360-degree swivel and seat tilt plus tension control knob earn user experience better.
Modway Edge Drafting Chair works the same as a quality drafting stool with a breathable mesh back, generously foam padded mesh seat, extra tall gas cylinder, and stylish modern design.
Pros
Flip-Up Padded Armrests
Padded Vinyl Seat
Chrome Plated Foot Ring
Best Budget Office Chair
Cons
Not Arms Up and down Adjustment
6) TOPSKY Mesh | Best Office Chair for Lower Back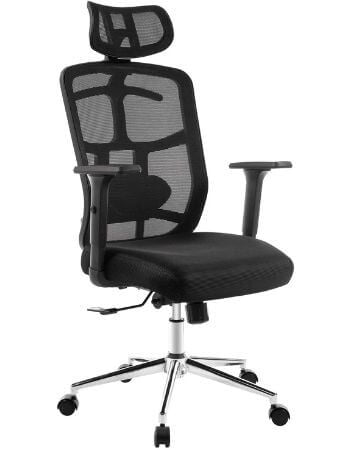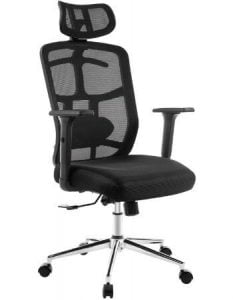 Orthopedic Lumbar Support Chair
Weight capacity: 220 pounds
Ergonomic Design with hanger on back
145°Synchronous Mechanism & Lock on any position
Meets or exceeds all BIFMA standards
Adjustable headrest/lumbar support
TOPSKY office chair especially designs for those people who sit for long hours on their chair due to which they suffer in different back problems i.e lower back pain and Sciatica pain.
Both difficulties decrease the sitting capability of any individual. So that's why TOPSKY design, this best office chair for chronic back pain Patients.
The distinctive element in this chair that gives relief from sciatica pain plus its skeletal back frame covered with high strength mesh back that provides regular attention to your backbone and improves your sitting position.
This chair has a hanger on his back that enables a user to hang a coat and bag. While sitting in front of the screen your neck and head need some support, so this chair also solves your problem by providing 3D headrest adjustments.
Adjustable & Soft pad armrests help while working on a computer and you also adjust the height of arms by pressing a single button. Due to High strength mesh back and thick sponge, it offers 220 lbs weight capacity.
Its ergonomic design and adjustable (Forward & Backward) lumbar support make it uncommon and supportive for the vertebral Column. For back pain relief, you can adjust Upper/Lower Lumbar support and make it comfortable for your back. And this is also a helpful chair for back posture correction.
Electroplate Feet and Nylon Wheel make it a heavy-duty durable chair, that easily moves on the harder surfaces and wooden floors.
Pros
Three Steps Flexible Headrest
Movable Armrest Pad
Skeletal Lumbar support back
7) La-Z-Boy High Back Chair for Lower Back and Hip Pain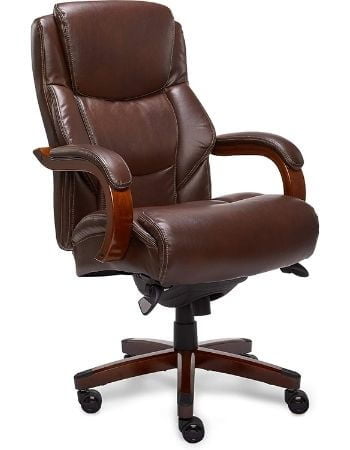 Most ergonomic Executive Chair
Memory foam cushioning
Made with luxurious bonded leather
Memory-Foam cushioning for ultimate comfort
Fully adjustable height, recline, and tilt settings
Sturdy components surpass rigorous BIFMA testing
La-Z-Boy Big & Tall Office Chair is one of the best selections for an office executive chair. Highly comfortable bonded leather chair designed by an advanced brand known for variety, tradition craftsmanship, and satisfaction.
Not only a handsome design, but It also provides outstanding support with comfortable sitting and makes the user experience better.
This product is different due to the memory foam advanced layering system that fulfills 5 layers to make the seat more comfortable. This is a padded headrest chair plus neck support to reduce pressure point and give relief from discomfort caused by long sitting.
It designs the same as Serta Executive Office Chair with sufficiently recommended adjustments. You can adjust the height & tilt according to your demand for customized sitting and improve body alignment.
The curved lumbar back gives lower back support to enhance sitting comfort and accepting up to 400 lbs weight.
Like a supportive chair, it has a thicker plywood subscore, heavy-duty casters and a reinforced back bar that helps to sit long.
Soft Bonded leather serves to create a traditional look and modern performance that is good for any workplace, residence, and domestic space.
If you find the executive chair for your office or generous seating area then it is the most suited selection for you in an excellent budget. Its remarkable features make it best selling office chairs under $300.
La-Z-Boy chairs looks more elegant due to soft and luxurious bonded leather with a thick contoured cushion. It has premium wooden foot and classic style rich wooden arms that formulate it more sophisticated.
It provides a waterfall seat edge to promote blood circulation and cable-actuated levers for easy to use during seat/height adjustment.
This chair has 21'' inches height from the floor with a range of height adjustment between 18'' to 24'' inches. And the width of the seat between arms is 22'' inches. So it is the best chair for a tall and overweight person.
Pros
Made by Bonded leather
Wooden made arms & base
Skillful stitching
Memory Foam layering system
Cons
It is best executive not computing chair
8) BERLMAN Ergonomic – Best Computer Chair for Back Health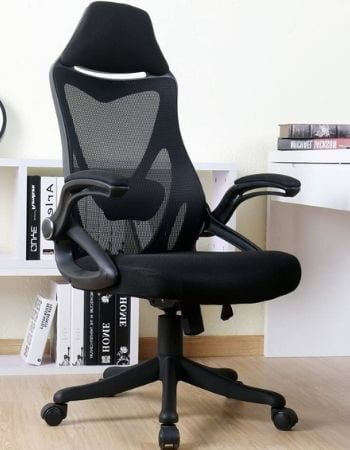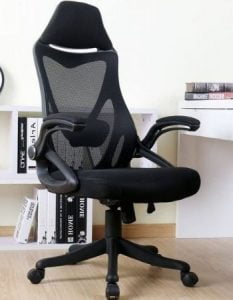 Lumbar Support & Headrest
Weight Capacity: 250 lbs
Built-in lumbar support and headrest
Pneumatic Seat Height Adjustment
Tilt Lock Mechanism with Tilt Tension Knob
Breathable mesh back make you feel comfortable
Heavy duty base with smooth and silenced rolling PU casters
Mesh Back Computer Chair is a multi-purpose chair that means it can be used as a computer chair, gaming chair as well as a reception desk chair. Zenith furniture is a trustworthy brand for office furniture that makes this chair with Nylon material.
If you find an office chair that helps to sit for long hours, then this is wonderful for you because it meshes back easily exchange airflow and make you feel comfortable during long hours working.
The headrest of this chair also supports the head and reduces pressure on the neck plus backbone.
Tall lumbar support and headrest improve sitting in the right posture and protect neck including waist.
This chair not only has outstanding lumbar support but also having 4'' thick foam seat that distributes body weight equally and reduces recline pressure.
Its maximum weight capacity is 250 lbs and very easy set up within 10 minutes.
Tilt Tension Knob facilitates to adjust (increase or decrease) the force required to tilt and also supported a tilt lock mechanism. One more advantage of this chair is, it saves space in the room by flip-up arms due to which chair slip under the desk.
Pros
Superb Lumbar support
Easily Assemble
Flip-up Arms encourage to save space
9) Hbada Breathable Mesh Recliner Chair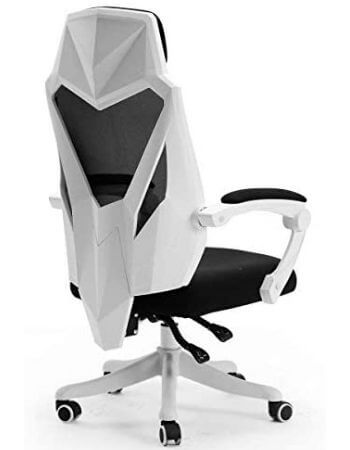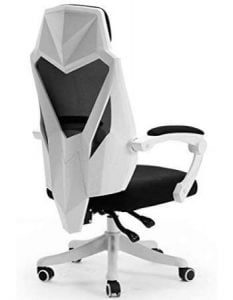 Orthopedic Chair for Back Pain Problems
Weight Capacity up to 225lb
High back mesh office chair
Built-in neck support and lumbar support
Stable, Breathable & durable chair
Enhances the natural curve of your spine
Built-in lumbar cushion supports your lower back
Hbada chairs represented black and white tune designs to produce environment-friendly, stylish and comfortable Ergonomic Office Chair.
Hbada is the best brand to use the most environment-friendly materials in their chairs. Due to advanced product analysis & construction, qualitative products and perfect after-sales service make it a well-known brand over the globe.
Hbada back mesh office chair review has integrated frame recline backrest with saddle mesh cushion design. It also has a built-in neck and support to increase stability while sitting for a long time. It is a high elastic mesh fabric that continues back airflow to keep you cool.
You feel the whole day energize due to stable back support and mesh back breath-ability. A thickly padded headrest supports your neck and head well.
Due to these reviews, it makes firm and sturdy. Because supportive headrest minimizes neck pressure and reduces back pain. Back of this chair made of mesh fabric that provides ventilation due to which your back remains cool and dry during working.
Recline armrest and back adjustment make it the best ergonomic office chair for back pain relief that provides relaxation as you want!
It has a 360-degree swivel with a 5-star heavy-duty nylon base and smooth-rolling caster that provides excellent stability and movement. The weight capacity of this chair is 225 lbs including the base has 2500 lbs and also passes BIFMA standards.
This chair gives a more enjoyable sitting experience due to a sponge padded seat and produces exceptional support like a relaxed ergonomic mesh chair. It affords seat height adjustment from 16'' to 19.5'' inches and most fit for those people whose height under 5′ 10″.
It has 70 cm built-in lumbar support that gives relief to the lower back and improves your spine curve naturally.
Its 135° recline ability encourages you to take a rest after long hours working. And you can also customize the best position of the chair by using a tilt lock function.
Pros
Quite Sturdy and Well-built
Worry-Free Guarantee
Lumbar support with recline backrest
10) GTRACING Chair with Armrest, Backrest & Lumbar Pillow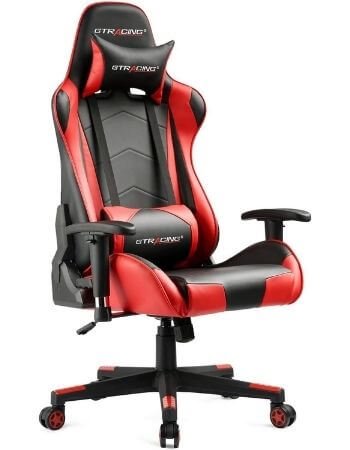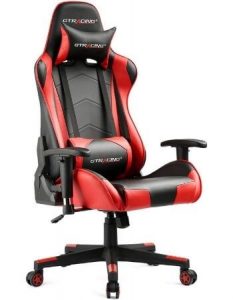 Best Gaming Chair for Lower Back Pain
Best gaming chair for pro gamers
Strong metal frame design
Armrest and seat-height adjustable
5-point base built with heavy duty
Smooth PU leather & added seat cushion
Included Components: Lumbar, armrest & headrest
GTRACING Gaming Chair is a top-rated ergonomic chair best for gaming. GTRACING chairs are top of the list according to gaming chair reviews 2019.
Without wasting time, I explain the matchless features of this top-selling chair.
Multi-Function Chair: It provides 90 to 170 degrees reclining that excellent for getting quick lie-down. 360-degree swivels and smooth-rolling casters support you mobilizing during multitasking. You can also remove the headrest according to your choice.
Due to the headrest, the neck can not feel any strain. It supports 165 degrees reclining back with armrest and seat-height adjustments.
Ergonomic Design Chair: For seat comfortability, it uses a strong metal frame that helps to sustain posture while sitting. It upgraded with a retractable footrest, thick padded back, and seat.
Made by High-Quality Material: Bonded leather use in this chair in seat cushion and lumbar support. It provides great stability and mobility due to the heavy-duty base and superlative rolling caster.
Money-Back Warranty: You can replace broken or malfunctioning parts of this gaming chair within 1 year. And feel free to replace or refund due to any genuine issue within 30 days. Tilt adjustment makes it rocking back featured chairs. It has a knob under the seat that serves to manage tilt adjustments.
You can assemble this chair for lower back pain very quickly in less than 40 minutes. And it bears 300 lbs weight easily due to its 5 point base built with a heavy-duty material.
It truly works great to solve lower back problems and get relief from sciatica pain. This chair work as ergonomic recliner with 180 degree recline ability.
Due to pretty good lumbar support and pillow, you have done a long gaming section on this chair. Most of the buyer reviews help to describe this chair in terms of the best budget chair for backrest.
Pros
Folding Footrest support
Bonded Leather cushion
Cheaper with Warranty
Best Chair for Lower Back Pain | Buying Guide 2023
I am going to explain some primary features that lower back pain office chair must-have. And you should need to know about these things before buying a workplace chair.
1) Chair Material & Manufacturing
The material of the chair is the most essential thing to check before buying a chair. Chairs are made from various kinds of material like wood, plastic, or any kind of metal.
And some chairs construct with different types of materials. For example chair Back and seat are made of plastic or steel and the base or legs of the chair made of metal.
Mesh chairs provide a freshener comfort due to regular airflow and keep cool while seating. This type of chair is known as a breathable chair.
Seat caution also plays a decent role in chair material as bonded leather chairs look more fashionable, but it is a little bit expensive.
One warning of leather chairs, it must prevent from direct sunlight. Instead of leather chairs, plastic chairs are easy to clean or wash.
If you need a chair that will serve you for a long time, then you must select a chair that has a strong metal base.
2) Chair Adjustability
A chair that carries more adjustment is a hundred times better than a chair having few adjustments. Adjustments make a chair suitable for a long-range of people and help the user to set chairs according to their body size and sitting posture.
Normally chair provides armrest and seat height adjustment. These adjustment capable users to adjust the height according to the computer screen as well as an office table. And also provide a relaxed armrest that helps to work for more time long.
Beyond there are some best office chairs offer to reline, flip-up armrest, 3-way adjustable headrest, and position locks. Position lock fixes the chair as the user want and headrest adjustments fulfilled requirements of ultimate comfort.
Due to these adjustments, you work in your office for a long time by sitting on a chair and never feel any tiredness. These adjustments help you to set a chair according to your need and also gives high comfort.
3) Chair Lumbar Support
Due to endless hours spent in the same sitting position, people suffer in lower back pain, neck pain, shoulder pain and sciatica. Lumbar support ensures your unusual sitting posture and provides great alignment for the spine too.
The lumbar support takes rest to lower back muscles and keeps the spine in alignment. For long seating, your chair must have lumbar support.
The lumbar support pillow also distributes spinal strain and relieve the discomfort by long hours of sitting. Lumbar support not only helps you to sit for long, as well as gives a good sitting posture to your body and provides excellent support to the lower back.
If you are a victim of lower back pain then it is must be included in your chair characteristics. And due to the regular use of lumber supported chair, you getting rid of pain problems very soon.
4) Chair Rolling Ability
Rolling chairs help to move while working in the office and avoiding floor strain during chair movements. Two important factors must be considered.
One is 360-degree swivels that help you done round working tasks. The second factor to be considered is smooth-rolling casters that help to move on the floor without and surface tension.
And check a certain chair that easily glides over a wooden surface or a carpeted area. Due to smooth-rolling casters, the chair easily goes over the wooden floor and never creates any noise.
5) Seat Cushioning
While chair selection, seat cushioning must be an essential part to get attention. Little cushioning causes back pain while too much cushioning also puts pressure on your hamstring muscles. So be careful to select average size cushion for comfortable sitting.
In padding terms, the best chair supports you to move naturally and provide comfortable sitting.
Breathable seat cushions give regular airflow and keep your body dry. It also facilitates high ventilation to the body while working. And you feel fresh even sitting still too much.
6) Chair Waterfall Design
Waterfall seat design is amazing to share sitting weight equally, seat pan or ergonomic feature with lumbar support gives a guarantee of comfort and correct posture.
That chair is designed with molded foam and a rounded front on the seat pan. The seat provides little slope downward to relief thighs pressure from the back.
Due to continued sitting, your legs feel to much weight pressure due to which leg veins do not circulate blood properly. But the waterfall design model helps to improve the flow of blood to lower limbs. One more advantage of the waterfall seat is it offers to relieve pressure behind the knees.
7) Made For Your Body
Before purchasing a chair, you must confirm that the selected chair is fit for your body or not.
It means every person has a specific body size, height, and body posture. Some chairs are specially designed for tall people as well as some for small.
So before buying a workplace office chair must check its dimensions, seat cushion, back support and verify that it must be suitable for your body and height.
If you feel, it is not fit for your body then do not buy. And select another one that best fits your body. For example, if your height is more than 6 feet then you picked a chair with long lumbar with a high back and adjustable headrest.
But if your height under 6 feet then chooses a chair that has standard lumbar support and seat adjustment mechanism. And also check the weight capacity of the chair that you want to purchase. If your weight exceeds the given chair capacity then take a new chair that offers more weight capacity.
Best Office Chairs for Lower Back Pain – FAQ's
What is Ergonomic Office Chair?
Chairs for upper back pain of ergonomically designed for fulfilled requirements of a large range of people. It is fully adjustable to enhance maximum comfort while sitting.
The backrest of this chair lies between 12 to 20 inches. Its support seat pan depth adjustment that helps to change seat depth. By using a back angle and back height adjustment, the user can turn the back of the chair to a relaxed position.
One essential characteristic of an ergonomic design chair, it has a quality smooth rolling caster with a 360-degree swivel that makes it stable and easily mobilized. It helps to reduce neck pain due to headrest adjustment.
So it is not wrong to say ergonomic chairs are the most comfortable chairs for office that help to save from spinal disorder and facilitates you to sit for a long time.
And if have degenerative disc pain & tailbone pain then you need to buy Most comfortable reclining chair for degenerative disc disease.
What is Best Chair for Sciatica?
Sciatica pain refers to the sciatic nerve, which undergrowth from the lower back by hips, buttocks and down each leg. Usually, it affects only one leg or one side of your body.
Due to sciatica pain, the victim faces inflammation, high pain and some numbness in the pretentious leg.
The major reason for sciatica pain is a poor sitting posture on a cheap office chair that defects on spinal cord alignment. But fortunately, most people recover soon from this ailment within few days by non-operative treatment.
So Ergonomic design chair is one of the most immeasurable options for sciatica patients. Because the ergonomic chair fully adjustable and provide lower back support to relieve sciatica.
Most doctors recommend Air Bag massage for Sciatica Patients because massage improves blood circulation amount legs and back muscles. Brookstone Air Bag Massagers are helpful for full body massage purposes.
Due to lumbar support, this chair reduces back discomfort and multi-tilt & synchro-tilt provide backrest and divide the weight of the body equally.
The ergonomic chair also facilitates pillow support for your lower back and neck. You can adjust the pillow and also remove it if not feel better.
Is Mesh Office Chairs Better for Lower Back Pain?
Yes! These chairs are comfortable and most suitable for the office and conference room. But it is also not good for long sitting like 10 to 12 hours per day.
Mesh back circulate airflow regularly and you can feel freshness all the time. It also releases body heat and provides a pleasant sitting experience.
It is a well-designed chair that provides a stylish look to your workplace. I put some reasons in front of you, that help you to decide on purchasing a mesh chair:
It provides air ventilation to keep you cool. As an excellent chair, it divides your weight across a bigger space, and minimize your hip pressure, buttocks and spine incur.
It is also a highly sturdy chair that makes you able to do multiple tasks in your office. But it is a poor selection for those who sit for long hours regularly. And some mesh cautions cause abrasions to skin and clothing.
In the market, mash chairs available in many types: better quality mesh will be more soft and smooth than poor quality mesh.
Is Lumbar Support Helps to Relieve Lower Back Pain?
The lumbar region holds five vertebrae in the spine among the diaphragm and sacrum. Best office chair with lumbar support provides comfortable hold up to the lumbar region that helps to make a healthy nervous system, muscles, vertebrae and discs in the back.
Mostly all ergonomic chairs have excellent lumbar support, that produces rest flush against your back and maintains spine alignment.
Lumbar support allows for proper body posture, neck, and headrest, spine and hips are in alignment with proper comfort-ability. Absolutely with minimum adjustments, it takes a rest on the curve of your lower back and gets rid of pain problems.
It supports the natural inward curve of the spine and fulfills the gap between the lumbar spine and the seat.
How to Improve Sitting In Front of Desk?
Proper sitting in front of the desk helps to improve body posture and maintain ergonomic back support. Good sitting posture also removes upper and lower back pain issues.
I explain Desk Ergonomics by given Video.
(https://www.youtube.com/watch?v=VmkdIhq_gEs).
Final Words
I explained a list of top-rated ergonomic office chairs for lower back pain with their pros and cons. And tried to explain all characteristics in-depth and collected all customer reviews in one place to help you select a better chair that is most suitable for you according to your own choices and requirements.
Because I sit nearly 14 hours in a day, but I never feel tired due to its ergonomic design and mesh back caution. And it is the best lumbar support chair that helps me to relax from lower back pain due to ergonomic design with a backrest pillow and it keeps my body posture correct.
After research of hundred hours and analysis of thousand of products, our writing team abled to write this article. So I hope this article will helps you to for choosing a most comfortable chair for lower back pain relief.